Chris Philpott says goodbye to blogging life with a look back at the best of the year so far.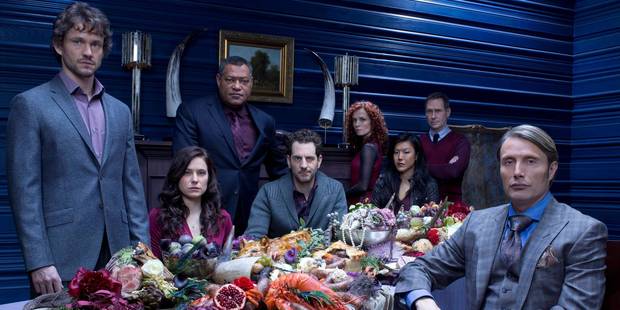 The feel-good ending is not an easy feat to pull off, yet two different shows - The Goldbergs and Raising Hope, both of which air Monday nights on Four - seem to do it every week without seeming forced or fake.
You know the kind of ending I mean. The episode begins by setting up a premise - big brother Barry believes his luck is terrible, so his grandfather tricks him into thinking otherwise. A little conflict happens in the middle - Barry finds out his grandfather lied and sets out to embarrass him. The ending finds everybody back on good terms - Barry realises that his grandfather acted out of love, and everybody lives happily ever after.
A staple of many memorable television series, including Full House (as our own Bridget Jones wrote about this week), the feel-good ending has gone the way of the dodo in recent years as shows, both comedic and dramatic, have turned dark and chased serialization over the simple pleasures of entertaining and reinforcing good morals.
But there is something to be said for going out on a positive note, for sending the audience away with warm fuzzies and memories of happier times as they get on with their lives. The Goldbergs and Raising Hope are doing this better than any show on television right now, and they're both must-watch for exactly this reason.
I was thinking about endings because this is my last column for the NZ Herald online entertainment section.
Actually, it's my last column for any outlet for the foreseeable future, drawing to a close nearly a decade of published writing. I've decided to jump the fence, accepting an offer from one of our local networks to join their team.
Since I love those feel good endings that The Goldbergs and Raising Hope have turned into an art form - and since we're so close to the end of March and I won't get to do this at the end of the year - I figured I could go out on a positive note, and hand out a few television awards for the first quarter of 2014.
Here are my First Quarter Awards - post your picks in the comments section, below.
Best Drama Series
Amazingly, the winner - and the two runners-up - for Best Drama is a brand new series. The fine-dining on Hannibal (TV3) has been the most engrossing television so far this year, with the performances of Hugh Dancy, Mads Mikkelson and Caroline Dhavernas pushing it into the upper tier of TV drama. Runners-up: True Detective (SoHo), House Of Cards (TV3).
Best Comedy Series
It's amazing to think that nobody in New Zealand bought Brooklyn Nine-Nine (TV2) until after it had won a Golden Globe award for Best Comedy Series. Yet, here we are, not three months later, and I'm calling it the funniest show on television - and it keeps getting better every week. Runner-up: Parks & Recreation (Four).
Best Documentary or Reality Series
There is just something about the sheer scope of what Neil deGrasse Tyson is trying to tell us on Cosmos: A Space-Time Odyssey (National Geographic) that makes it feel important. Cosmos educates, amazes and entertains. It is rare for a documentary series to do all three. Runner-up: The Great Food Race (TV3). Hey, don't laugh! I really like it!
Best Performance, Drama
The answer is obvious: Tatiana Maslany played something like six different characters on Orphan Black (SoHo), often playing entire scenes against another version or two of herself - yet she was robbed of Golden Globe and Emmy success. Word is that she'll play even more characters in season 2. I hope the writers just keep adding more and more characters until someone gives her an award. Runner-up: Matthew McConaughey, True Detective. Vive la McConaussance!
Best Performance, Comedy
Andre Braugher's turn on Brooklyn Nine-Nine, where he plays the stoic, seemingly emotionless Captain Ray Holt, has been one of the most rewarding parts of the show. I think he deserved that Golden Globe more than Samberg. Runner-up: Terry Crews, Brooklyn Nine-Nine. Actually, let's just make the entire ensemble of Brooklyn Nine-Nine runners-up here.
Most Improved Series
Not only has the action on Arrow (TV2) stepped up - more highly stylised, executed in the same vein as much larger scale blockbusters - but the performances from the core cast have improved too. Even Katie Cassidy, who plays Laurel Lance on the show, has managed to pull off a few teary moments. Runner-up: Banshee (SoHo).
Best Use Of Music
One of the best episodes of The Walking Dead (TV2) this year was book-ended by a rather lovely piece of music which I later found out was performed by, no joke, former American Idol champ Lee DeWyze. If you're picking Lee DeWyze music for your show, and it WORKS, you absolutely deserve an award from me. Runner-up: The Blacklist (TV3).
Single Best Television Scene
The six-minute long drug robbery which allowed Rust to grab an informant, which ended the fourth episode of True Detective, was one of the most stunning sequences ever committed to television. I'm not sure if I breathed even once during the entire scene. Runner-up: Sherlock's best man speech, Sherlock (One).
Most Looked Forward To Series
Yes, vampire shows have been done to death - True Blood and The Vampire Diaries pretty much killed the genre entirely - but Guillermo Del Toro's The Strain seems like another beast entirely, at once terrifying and exceedingly original. And who wouldn't be interested in anything featuring Del Toro?! Runners-up: Fargo, Gotham.
Best Ron Swanson Quote
Ben: "What are all these weird symbols?"
Ron: "The man who kills me will know."
So, there we have it - that's it from me. A massive thank you to Chris, Russell and Bridget for allowing me to contribute to the rather brilliant Herald online entertainment section, it has been an absolute joy to be here. And thank you, loyal readers, for taking a few minutes out of your day and spending them with me. It has been an honour and a privilege to write for you.
*What awards would you hand out for the first quarter of the year? Share your favourites in the comments below.