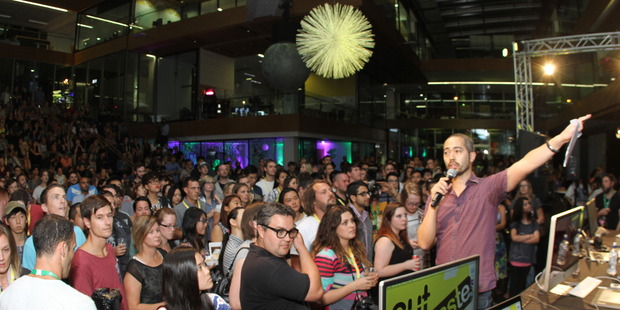 By the end of Characterized - a "live design battle" - I did what the MC had been desperate for us to do all night: whooped it up loudly to help my favourite team win. They had made a cartoon about depression. Yay!
It was an odd night. More specifically, it was a free, "sold-out" infomercial, a smoke-and-cameras desert of the real, held in the artificial trendiness of the Telecom HQ foyer.
Design wasn't centre stage; hype was. "Let's stand up!" shouted New York MC and event creator John Fiorelli. No one moved. "I'm gonna count to three!" he continued, channelling Miss Trunchbull. The night's official theme was "communion"; American rah-rah met New Zealand nonchalance.
Instead of the 48-hour film fest, this was a 35-minute design demo: three teams would sketch out two characters (10 minutes each), and then digitally colour and show them "sharing and exchanging important thoughts" (15 minutes). Communion because (cough) Telecom.
The competitors hid behind their computers. Our screens showed us their screens, plus "our" tweets. At least two tweets weren't from Telecom staff.
Round One: Team Cyan (AUT graduates Ivy Niu and Alisha Burton) drew an overweight stubbly guy called Stan; Tequila Mockingbird (Mat Brady and Tessa Monash) drew a furry monster holding half a guitar; Brothers Different Mothers (Garry McLanachan and Scott Savage) made a kidney bean.
The format was supposed to "demystify the creative process". But no running commentary. No countdown. Sloppy timekeeping. I remained mystified.
Round Two: Stan acquired epaulets and a skateboard over his head. No wait, he's engulfed by a layer cake. Or a large black dog. The Brothers' kidney bean/woodcutter was paired with a chipmunk. Tequila Mockingbird drew an extremely cute little monster holding the other half of the guitar. The monsters were playing one guitar together! Very clever communing.
It turned out Stan's creature was only metaphorically a black dog: it "represents depression, so it's a blob", explained Team Cyan to a nonplussed Fiorelli. I decided that Team Cyan had subverted the night's forced bonhomie by pointing out that not all shared thoughts are happy ones. Ha! Is this the difference between design and art? Design embodies the brief, art turns it upside down?
Round Three: Fiorelli's getting slightly hysterical, because we're not. "This is Auckland right?" he chides. "Where you all bungee jump and use rubber for unconventional purposes and wear squirrel suits to bed?" Huh? He thinks we're S&M furries?
The winners were decided by applause. It was close, but in spite of my best efforts, the prize went to Tequila Mockingbird. Their slick, clean, efficient work deserved to win, dammit.
Unbeknownst to the audience, the teams knew the theme a couple of days before. Two guys filmed over the competitors' shoulders during the event, but we didn't see that footage: that was for a video "recap" for Fiorelli. So we weren't being advertised to, we were part of the ad? In recap, my cheers for subversion will sound like any old cheers. Dammit.