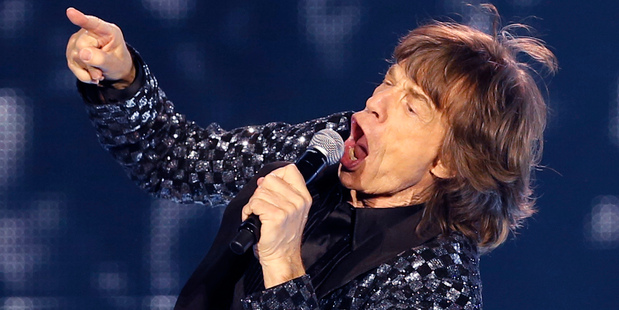 Have you booked accommodation and/or travel that has been affected by the announcement that the gig is off? Contact us with your story here.
Kiwi fans of the Rolling Stones are being told to hold on to their tickets after the group postponed their Australian and New Zealand tour following the death of Mick Jagger's girlfriend L'Wren Scott.
No new dates for the rescheduled shows on their 14 on Fire tour were given in the statement announcing the postponement.
But promoters Frontier Touring are asking for ticket holders to the shows, which was to include a single New Zealand concert at Mt Smart Stadium on April 5, to hold on to their tickets. They say a new Auckland date would be announced as soon as possible.
Frontier are assuring ticket holders that if the new date doesn't suit, refunds will be available.
"Mick Jagger, Keith Richards, Charlie Watts and Ronnie Wood wish to thank all of their fans for their support at this difficult time and hope that they will fully understand the reason for this announcement," the statement said.
The Stones were to finish their 2014 touring commitments with a run of European summer festival dates in June, having spent much of 2013 on the road celebrating their 50th anniversary with shows in the UK, US, Canada and France.
The seven-date Australasian tour was a mix of indoor arenas and outdoor venues which included Auckland's Mt Smart, a concert at Hanging Rock, and one at the revamped Adelaide Oval where the Stones had been booked as the renovated stadium's opening act.
In March 2006, when imminent shows by U2 at Mt Smart were postponed a week out from the concerts due to a family illness, the band returned nine months later in November.
Both Air New Zealand and Jetstar have committed to allowing customers who had booked tickets to Auckland for the show the option of rebooking their tickets.
Jetstar spokesman Phil Boeyen said concert goers would be provided with a voucher equivalent to the value of their fare to be used to rebook travel at a future date.
Affected passengers were advised to phone the Jetstar Call Centre.
Air New Zealand spokeswoman Kelly Kilgour said customers booked to travel to the concert who purchased their tickets on or before Tuesday, March 18 were being offered the option of deferring their travel to a later date or changing their domestic travel destination on their ticket, including those on non-flexible fares.
Customers were able to defer their travel to a later date inside 12 months of the original date of travel. For those wishing to defer their flight without having a new travel date, the value of the ticket may be held in credit for the same 12 month period.
Affected customers were advised to contact the Air New Zealand Contact Centre on 0800 737 000 for further information.
Jagger 'shocked and devastated'
Jagger, who arrived with his bandmates on Monday in Perth was "completely shocked and devastated'' by L'Wren's death.
Jagger is expected to fly to New York to grieve with friends and family, although no official announcement has been made.
A statement on Jagger's official website said the singer was "struggling to understand how my lover and best friend could end her life in this tragic way".
Scott, 49, sent her assistant Brittany Penebre a text message at 8.30am on Monday local time, asking her to come to her ninth floor Chelsea apartment at 10am, but when Penebre arrived, she found the designer dead.
The New York Medical Examiner's Office will determine a cause of death, but the initial investigation points to Scott taking her own life, police sources said.

L'Wren Scott with Mick Jagger in 2012. Photo / AP
Her fashion empire was reportedly crumbling with a $US6 million debt and last month she cancelled her London Fashion Week show at the last minute.
Her 13-year relationship with Jagger, longer than his eight-year marriage to Bianca Jagger and nine years with Jerry Hall, ended recently when the Rolling Stones frontman dumped her, according to the New York Post.
Jagger's representative, however, said the couple "absolutely'' was together when she died.
"A 49-year-old female was found this morning at 10.05am at 200 11th Avenue. She was unconscious,'' an NYPD spokesperson said.
"She was pronounced dead on arrival by the emergency medical services.
"The investigation is ongoing.
"We are awaiting medical examiners to determine the cause of death.''
Australian actress Nicole Kidman, husband Keith Urban and their daughters, Sunday Rose and Faith Margaret, also have an apartment in the exclusive tower complex that allows owners to drive their car into a lift that takes them to their unit.
"Nicole and L'Wren were close friends for 25 years,'' Kidman's representative said.
"Nicole is heartbroken and in shock right now and unable to say anything.''
Utah-raised Scott dressed most of Hollywood's A-List, including Angelina Jolie, Reese Witherspoon and Amy Adams, but it was Kidman who was the most devoted, regularly choosing the designer for Oscar, Cannes Film Festival and other red carpet events.
Scott, a former model turned Hollywood stylist who went on to build an empire producing gowns, handbags, sunglasses and fragrances, was 190cm tall and towered over 178cm Jagger. She understood how to dress tall, thin frames like Kidman's.
Jagger's daughter, Georgia May, has pulled out of Melbourne Fashion Week.
The 22-year-old was due to showcase Camilla Franks' collection, but the Sydney-based designer announced the model would miss the event.
"We offer our sincere condolences to Ms Jagger and her family,'' the Camilla label said in a statement on Tuesday.
Read more: Mick Jagger's girlfriend L'Wren Scott found dead
- additional reporting Brendan Manning
- AAP with Noise 11