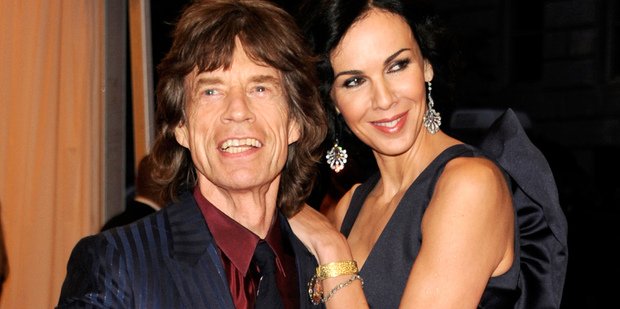 L'Wren Scott, American fashion designer to the stars and long-time girlfriend of Rolling Stones frontman Mick Jagger, has been found dead in her New York apartment.
Jagger, 70, was "completely shocked and devastated" by the death of the 49-year-old Scott, a spokesman for the rocker said. There were no suspicious circumstances.
Video: Mick Jagger's girlfriend found dead

Jagger is currently in Australia, where he is touring with the Stones, who were due to perform in Perth on Wednesday. There was no word on whether the tour - which includes an Auckland date on April 5 - will go ahead.
Scott had dated the Rolling Stones frontman since 2001 following his split from his second wife, Texan model Jerry Hall.
New York police said Scott was found dead at 200 11th Avenue, a block of luxury apartments in Chelsea, shortly after 10am.
"Upon arrival, officers discovered a 49-year-old female unconscious and unresponsive," a spokeswoman said.
"She was pronounced dead on arrival. The investigation is ongoing. The medical examiners will determine the cause of death."
The autopsy is expected to take place on later today.
Last month, Scott cancelled her expected show at London Fashion Week owing to production delays, but there had been little public sign that anything more serious was wrong.
Her official Twitter account was last updated - after police were called to her apartment - with a Facebook link to a fashion shoot with the simple note: "today #love #timwalkerphotographer #lwrenloves".
Jagger's first wife Bianca led the outpouring of tributes from celebrities who spoke of a kind and talented woman whose death would leave a gaping hole in their lives.
"Heartbroken to learn of the loss of the lovely and talented L'Wren Scott. My thoughts and prayers are with her family. May she rest in peace," she wrote on Twitter.
Pop superstar Madonna - just one of the many high-profile, glamorous women who wore Scott's clothes - released a statement calling her death "a horrible and tragic loss".
New York designer Marc Jacobs wrote: "Rest in peace, L'Wren Scott. You'll forever be missed."
A spokesman for the New York Fire Department confirmed only that firefighters had found a dead body when called to the address to respond to a "possible cardiac arrest".
Famous for her relationship with Jagger, Scott was also a hugely successful designer whose body-hugging and figure-flattering dresses were loved by Hollywood stars and First Lady Michelle Obama alike.
In a relationship for well over a decade with Jagger, Scott had appeared to give the aging rocker a degree of romantic stability despite the couple's 21-year age gap.
Before meeting Scott, he had a multitude of affairs with models, singers and actresses, and has fathered seven children with four different women.
He twice married models - Bianca and Jerry Hall - while other ex-lovers include singers Marianne Faithfull and Carla Bruni, who is now married to former French president Nicolas Sarkozy.
Born in Utah, Scott was adopted by Mormons and worked in Paris as a model before finding herself more interested in dress-making than walking the runway.
She moved to Los Angeles, where she began to work as a stylist and a costume designer for films before launching her own brand, now stocked in some of the world's most exclusive shops.
Launched in 2006, she called her first collection Little Black Dress, and then moved into shoes, handbags and eyewear, as well as collaborating on cosmetics with Lancome in 2010.
Most recently, she collaborated with high-street fashion brand Banana Republic on apparel and accessories for women.
- AFP
Where to get help:
• Lifeline: 0800 543 354 (available 24/7)
• Suicide Crisis Helpline: 0508 828 865 (0508 TAUTOKO) (available 24/7)
• Youth services: (06) 3555 906
• Youthline: 0800 376 633
• Kidsline: 0800 543 754 (4pm to 6pm weekdays)
• Whatsup: 0800 942 8787 (noon to midnight)
• The Word
• Depression helpline: 0800 111 757 (available 24/7)
• Rainbow Youth: (09) 376 4155
If it is an emergency and you feel like you or someone else is at risk, call 111.