We trawl through the gossip mags, so you don't have to.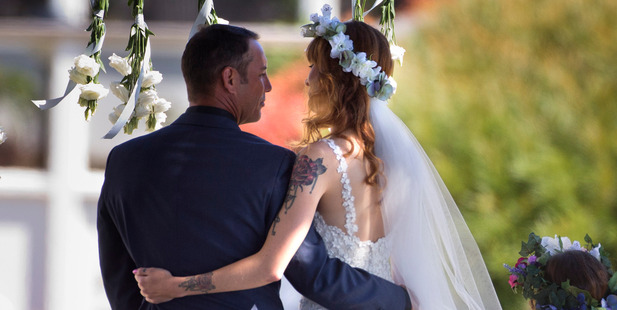 1. To quote Woman's Day, it really was a nice day for a white wedding when Adam Parore recently married Miller Rose MacLeod-McGhie (here's hoping they don't hyphenate their names!) Overlooking the white sandy dunes of Omapere on the Hokianga Harbour, it was an intimate affair for the 43-year-old former cricketer and his 23-year-old "foxy" lingerie model, who have been together since 2010. A few famous faces dotted the 60-strong crowd, who went home with wedding favours of vodka in glass skulls; "we have loads of skulls at home and we wanted people to have a piece of us", the couple explained to the mag. After waiting for 43 years to take the plunge, Parore says getting married makes him "feel like I'm finally growing up".
2. Television presenter Matai Smith might not live in the same country as his GC boyfriend, Alby Waititi, but that hasn't stopped the pair talking marriage. While Smith is a New Zealand "mummy's boy", Waititi is busy filming and working on Australia's Gold Coast, so time together is scarce.
But the couple are thinking about a trip to Italy later this year, where things could get serious. "I've heard it's a romantic country, so who knows," Waititi tells WD. And the model has some firm ideas about the wedding. "We want it to be somewhere huge, like the Vector Arena in Auckland so all our family and friends can come. Stan Walker and Annie Crummer will play. And Lorde! It will be a massive celebration."
3. Single ladies, if you want a heap of declarations of love, just become an Olympic snowboarder and get on Twitter. Kiwi athlete Rebecca "Possum" Torr made headlines around the world when she tweeted her desire to hook up with the Jamaican bobsled team via Tinder. It didn't happen, but Torr tells WD she has had "hundreds and hundreds" of tweets and Facebook messages from blokes around the world. And the real joke - Torr doesn't even use Tinder.
4. Seven Sharp's Jesse Mulligan is the second celeb-wed this week. Decked out in a grey suit, Mulligan promised his long-term girlfriend, and mother of his two daughters, Victoria Dawson-Wheeler to "be a good dad, and to show our girls what true love looks like" in his vows. Collective awwww now people. According to New Idea, the day went perfectly - except for an ill-fitting suit jacket for one of the groomsmen - and the couple were happily tucked up in bed by 9pm. Although Mulligan admits he didn't love the couple's first dance; "It was the longest three minutes of my life".

5. Not everyone gets a tribute from Dame Edna when they turn a year older. But then, Dame Kiri Te Kanawa isn't your average 70-year-old. New Zealand Woman's Weekly has photos of the performers recent on-stage birthday celebrations, which included a cake delivered by Downton Abbey's Mr Carson, and video tributes from Placido Domingo, Jose Carreras and that other great Dame.
- nzherald.co.nz