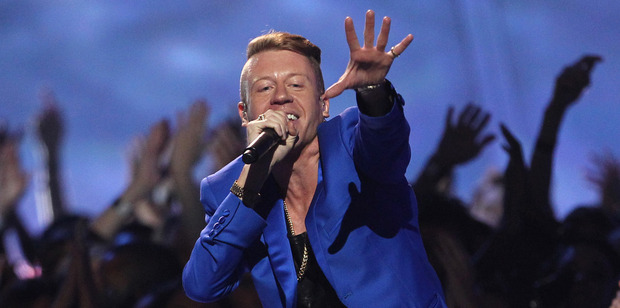 Macklemore & Ryan Lewis' huge hit Thrift Shop has been named the best-performing rap song of the past 25 years.
The musicians - due to perform in New Zealand on Thursday - won two Grammy Awards in January for the popular tune.
According to a new list compiled by editors at US music magazine Billboard, they can celebrate yet again after Thrift Shop landed the No.1 spot on the Top 100 Hot Rap Songs chart, which ranks the best-performing tracks since 1989.
Despite the fact the track was only released in 2012, its stellar performance on the weekly Hot Rap Songs chart over the subsequent year-and-a-half put it at the top of the list, beating other notable hits since the chart's inception.
The duo also took fourth place with their single Can't Hold Us, which features Ray Dalton.
The 1994 hit Tootsee Roll by 69 Boyz came in at No.2, while 1999's Hot Boyz by Missy Elliott landed in third place.
Salt-n-Pepa's 1989 track Expression rounded out the top five.
Macklemore performs at Vector Arena with Tinie Tempah on Thursday night.
- WENN