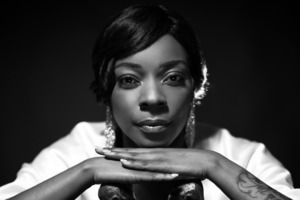 Maria Concepcion Balboa Buika, better known simply as Buika, truly is a woman of the world.
When she answers the phone in Miami, with her beautiful husky tones, and a lilting Spanish accent, she's only got a few days at home before she heads to the Maldives, and then to Scotland, Mexico, and Turkey, before heading to New Zealand for the first time for performances at Womad.
"I'm jumping around a bit" she laughs, but she clearly loves her work - though she doesn't think of it as such, more of a necessary activity.
"I represent the notes, it's sort of like my duty. If I don't do it, who will? A taxi driver? A baker? I'm the singer, so I need to be ready in this life to sing in any language, any type of music, any song. Otherwise I'm not ready for my job, especially at 41. I should be ready by now" she chortles.
She does sing in multiple languages - Spanish, English, and French for starters, and her voice is often compared to Nina Simone's, with more virtuosity.
She's collaborated with Pat Metheny, Anoushka Shankar, Chick Corea, Pedro Almodovar, and Nelly Furtado, and sings her own songs, traditional tunes, plus covers of Billie Holiday and Jacques Brel. But what can audiences expect when she turns up with her band on Saturday?
"I don't know actually, I never prepare the shows, and I never rehearse them, I never know what I'm going to do. It sounds crazy, but I just wait until I'm on the stage, and you know. The tribe is a really good director, they will tell you where to go, so I don't think it's necessary for me to prepare too much.
"The reality is that I try to follow what I call my 'free note', and not to believe in the limitations of my body, otherwise I cannot follow her. It's painful sometimes, you know, you need more air, and there's no more air coming in, and you have to continue with the note anyway, because if you let her go, you're lost on stage."
Whatever she does, it will be tinged with flamenco, steeped in soul, inspired by the music of Latin America, and delivered with experience - Buika has been singing since she was a youngster, growing up in Spain after all.
"Music has always been in my family's house, and in the sound of my family. My father used to play the maracas and sing as a hobby, my mama sings in the church choir, all my brothers and sisters love music. We're a very musical family. So I think I started singing before I started talking. I found that it was the only way to say the truth, because I was a little liar" she laughs.
It wasn't always evident that she would find a career as a singer though - she really wanted to be a drummer, and her first band was a blues-heavy metal act, but once she had a taste for the microphone, she was hooked.
"I didn't put my hand up for it, and I didn't think I could sing, but there were these girls offering 10,000 pesetas, like $60 or something, for someone to sing with them one night, and I was like, ok, I don't know how to sing, but, for 10,000 pesetas, I'll do anything.
And that night I discovered something - I am the fourth of seven children, and what with all the cousins and aunts and uncles around too, I was used to people not listening to me, so for me, when I was up on stage, it was like, 'wow, people are listening'. And it was the first time in my life that I heard applause directed at me, and I was amazed.
I think ever since, I have been conscious of the responsibility that it is, to be on a stage, and have the power to talk to people, to give a message."
He music is often concerned with world issues - things she has seen in the news and been moved by, or a problem she's trying to unravel - but it's also concerned with identity, and belonging, and freedom, which are all concepts she's wrestled with.
"Identity is a strange idea for me, because I was born in Palma de Mallorca, but my parents are from Guinea in Africa, but I've never been there. When I was a little girl, I remember I would say to my Spanish friends 'I'm Spanish', and they used to tell me 'No, you're black, your parents aren't from here, you're not Spanish, you're African.' So I'd say, 'Ah, okay' and I'd go home and talk with my family, and say 'I'm African', and they would make fun of me: 'No you're not African, you've never been there, you don't know how to climb the trees, you don't know how to speak the language, what type of African would you be?'
"So while I was growing up, my feelings about identity were a bit vulnerable. But after I began travelling, and I could see that there were many many people in the world like me, I realised that you're not necessarily from where you are born, you are from wherever you feel. I belong with all the people who love me, and all the places in the world where I see a smile."
Who: Soulful Spanish singer Buika
Where and when: Performing at Womad, Bowl of Brooklands, Taranaki on Saturday March 15 and Sunday March 16.
Listen to: La Noche Mas Larga (2013)