Five shows that will keep couch potatoes glued to their screens over the coming week.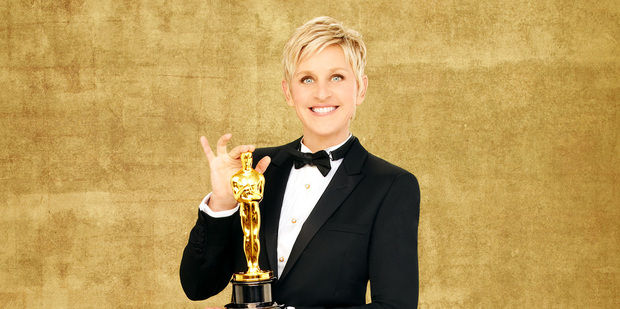 Pick of the week: The 86th Annual Academy Awards
When Ellen DeGeneres last hosted the Oscars in 2007, she was nominated for an Emmy for her performance (yes, in Hollywood, you can win an award for hosting an awards show), so you can be assured that her efforts on Monday will leave everyone entertained.
Last time she managed to do some vacuuming around the front row, drop her latest screenplay into Martin Scorsese's lap, and get a selfie with Clint Eastwood, all without particularly offending anyone, which is a triumph in itself as an Oscars host.
It's not all about DeGeneres though. Envelopes will be opened, little statues will be given out and acceptance speeches will range from rambling and overjoyed to calm and collected. If Jennifer Lawrence wins for her performance in American Hustle, will she repeat her smooth 2013 moves of stumbling up the steps?
Will Leo DiCaprio break his curse of being "always the bridesmaid, but never the bride" and take away a statue for his controversial starring role in The Wolf of Wall Street? He's been nominated five times, but never won.
The buzz around Matthew McConaughey's Aids-stricken cowboy (Dallas Buyers Club) doesn't seem to be abating though, and either he or Chiwetel Ejiofor (12 Years A Slave), could easily take home their first Oscar.
Could Cate Blanchett continue her winning streak with another gong for her unhinged portrayal of fallen socialite Jasmine Francis in Blue Jasmine, or will the honour be bestowed on Sandra Bullock for her near-solo journey through space in Gravity? Either would have to beat Meryl Streep and Judi Dench in order to do so.
12 Years A Slave does seem to be the favourite to win Best Film (it has eight other nominations besides), but it has eight excellent contenders, all of which also have multiple nods, which could see the awards spread wide this year. American Hustle and Gravity both have 10 nominations; Captain Phillips, Dallas Buyers Club and Nebraska each have six; Scorsese's The Wolf Of Wall Street and Spike Jonze's latest, Her, both have five.
Of course, last year's ceremony was marked by an awful lot of musical numbers - the whole show was a tribute to musicals, which had many stars showing off their song and dance prowess. Charlize Theron and Channing Tatum swept around the stage, Joseph Gordon-Levitt and Daniel Radcliffe joined host Seth MacFarlane for a toe-tapping number, the whole cast of Les Mis got up, Adele sang, and Catherine Zeta-Jones donned that black wig one more time to celebrate Chicago's 10th birthday.
This year will be less about musicals but just as much about music, with U2, Pharrell Williams, Idina Menzel and Karen O all performing their Best Song nominations, and P!nk is rumoured to be taking the stage, too. Yep, pop stars also get Oscar nominations these days.
Of course, if you want the first look at what everyone is wearing, you can also tune in to E! Channel from 11.30am where they will be bringing you all the banter and faux pas from the red carpet.
Comedy pick: Cuckoo
The Brits tend to do cosy suburban family comedy rather well - the sort of boy-meets-girl-meets-family storyline where awkward miscommunications, generational clashes, and crazed relatives are all ripe for comedic use. Cuckoo is a new show which runs along similar lines, but also manages to give the old tropes a fresh spin. American actor Andy Samberg (Saturday Night Live alumnus and Lonely Island singer, who is at home with offbeat TV roles) plays the titular character, a hippie stoner/spiritual ninja, who arrives at the home of Ken and Lorna Thompson (Greg Davies and Helen Baxendale respectively) after meeting, and marrying their lovely daughter Rachel (Tamla Kari) while she was on her gap year. Where Cuckoo is into whale music and nude meditation, Ken is more of your would-be local councillor and Nazi history enthusiast, which makes living under one roof an interesting proposition.
When: 9.25pm Thursday
Where: UKTV
What: Happy families
Food pick: Rick Stein's India
Britain has had a long and glorious love affair with the curry, but many Brits remain unaware that there's far more to the dish than some butter and some chicken. In his new series, Rick Stein is on a mission to discover the origins of various dishes and how they have journeyed or been translated around the world as Indian food has become globally celebrated. Determined to track down the perfect curry, and introduce new flavours, Stein embarks on a spectacular journey though the Indian sub-continent. In episode one, he begins with the regions which first introduced the new smells and flavours to Britain - Bengal and Tamil Nadu. The British influence in Kolkata and Chennai remains strong to this day and Stein enjoys the prominence of fish and seafood in so many of their dishes, flavoured with mustard in Kolkata and tamarind in Chennai. Exploring the eating habits of these cities inspires Stein to try cooking new dishes, like prawns in coconut milk.
When: 8.45pm Sunday
Where: Prime
What: In search of the perfect curry
Reality pick: 24 Hours In A&E
Filmed around the clock with 91 cameras at King's College Hospital in South London, this fly-on-the-wall reality series has now been going for three years, and has become a favourite for the way it captures the ordinary stories of all manner of Britons as they come through the doors for help. Love, life, death, and even comedy unfold on a daily basis as the A&E staff treat roughly 350 patients a day, and the observational footage is intercut with staff, patients, and relatives to create multiple perspectives. In the first episode, Stacey, a 37-year-old dad of six, and grandfather, has come to King's with breathing difficulties - and having had a collapsed lung eight years ago, he's afraid the symptoms have returned. Then 26-year-old Andrew is admitted with back pain after being knocked off his motorbike by a car, 20-year-old Sam has been rushed to resus after being kicked and punched in the head and body outside a nightclub, and poor Henry has hiccups that just won't stop.
When: 8.30pm Tuesday
Where: TV One
What: The frontline of British medicine
Local pick: I Was There
Season two of local treasure I Was There returns this week, uncovering more New Zealand history and talking to those who remember it best. The 20 episodes will be broken into four blocks of five, with each block tackling one decade. Dougal Stevenson presents the 60s, and looks at events ranging from New Zealand's first post-World War II military engagement, in Malaya, to the Mt Eden prison riots and the campaign to save Lake Manapouri. Tom Bradley takes on the 70s, including an interview with Arthur Allan Thomas, a look at our first Telethon, and a chat with Tim Finn about Split Enz. The 80s is tackled by Keith Quinn, who revisits the kohanga reo movement, nuclear-free legislation, and the capsize of the Rose Noelle, four crew who spent 119 days drifting on the wreckage. And finally Judy Bailey will take us to the 90s, talking to John Minto about his meeting with Nelson Mandela, looking at the Whitbread Round the World Races, and the Cave Creek disaster.
When: 7pm Monday
Where: Heartland TV
What: Revisiting our history
- TimeOut