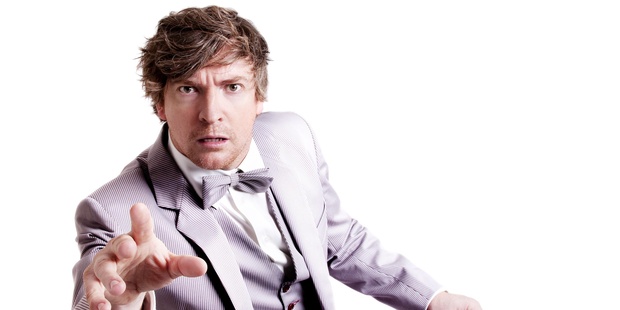 Kiwi actor and comedian Rhys Darby is back home and buzzing after three days filming a special episode with the star-studded cast of hit American TV comedy Modern Family in Sydney.
Better still, there was even a chance Darby's character would return for a future guest appearance. "They didn't kill him off, so who knows?" Darby quipped yesterday.
The actor confirmed his Modern Family character was a TV host and friend of the show's gay couple.
"He's a friend of Cameron and Mitchell ... The whole family have gone down to Australia and they've caught up with this friend of theirs again through Facebook."
He had to keep a lid on other details but his character clearly had interesting sartorial tastes. Darby sparked pandemonium online when posting on Instagram a sexy picture of himself in black-and-white shorts and turquoise jacket. "I look good in nautical clothing," he laughed. "You don't even have to have a boat."
On location, Darby got to meet one of the show's stars, Ed O'Neill, who played Al Bundy in the 1987-97 sitcom Married ... With Children. "He's a staunch guy. He seems bigger in person. It was a bit of a life-long dream to meet Al Bundy."
The sitcom's holiday special was shot in the heart of the city, sparking huge public interest. The shoot was hard work, the Flight of the Conchords star said, but it was impossible for cast and crew to ignore their beautiful surroundings.
"It felt like a vacation and there was a lot of attention. We filmed in the public eye."
The shoot took a worrying turn when a deranged fan grabbed actress Sarah Hyland's breast at a public event but Darby said he didn't experience negative fan behaviour.
He said it was great to win the role as the only "Australian" character in the sitcom. "It's pretty funny for us to get another one over Aussie," he said. "The family went to Australia and the main guest star role in the show ended up being a Kiwi."
At least one other cast member had a Kiwi connection. In July, Jesse Tyler Ferguson, who played Mitchell, travelled to New Zealand to marry his boyfriend here.
Darby is now preparing for his countrywide comedy tour Mr Adventure, which starts in April. "I've got a lot of adventure stories to tell, some in the middle of bizarre countries."