Dominic Corry talks to the man behind one of the bigger movies premiering at the upcoming French Film Festival, Cédric Klapisch.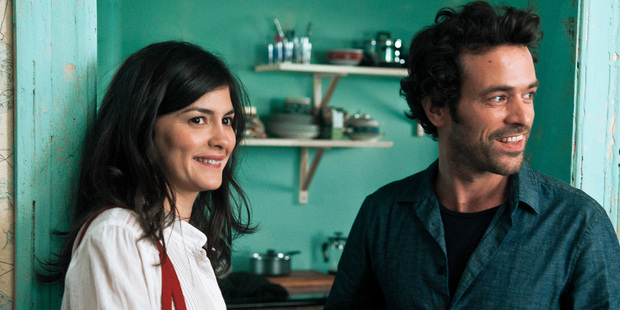 The 2014 French Film Festival kicks off next Thusday evening with acclaimed writer/director Cédric Klapisch's wonderful new film Chinese Puzzle, starring Romain Duris, Audrey Tatou and Cécile De France.
It is the third entry in a lively trilogy of films that began with 2002's The Spanish Apartment and continued in 2005's Russian Dolls. The films chronicle the tumultuous lives of a small group of characters who all centre around writer Xavier, played by French heart-throb Romain Duris (Heartbreaker, Mood Indigo).
I recently had the chance to talk to Klapisch in Paris, just ahead of the film's French release.
I began by asking why he felt the time was right to return to these characters now, almost 10 years after the second film, which arrived only three years after the first.
"It was an idea I had at the end of Russian Dolls - I thought that it would be interesting to wait for about 10 years to make another movie. And we now have a desire to see what they became. I was with Romain Duris yesterday and he said he's really expecting a fourth movie because Xavier is now part of his life and he wants to know what is going to become of him."
So it's not necessarily the end of the story?
"Not necessarily, but I think it's good if it's a trilogy. I'll see in 10 years from now what we want to do."
It must've been difficult to corral the cast, all of whom have become much more in demand since the first film?
"No because I think it was an an important movie for all of us. When I asked them if they wanted to make a third movie two years ago, they all said yes. I didn't know exactly what they'd all be doing in the movie, but they all said, 'Whatever I have to do, even if I only have three days shooting, I'll be there.' So it's nice to feel that."
While Chinese Puzzle definitely benefits from its characters being already established, you don't need to have seen the previous two to enjoy it. In fact, Klapisch would prefer that you start with the new film, then work back.
It couldn't possibly feel more French, but the film (despite the title) takes place almost entirely in New York City, a creative decision that came relatively late in the writing process.
"During the eight years between Russian Dolls and this one, I thought it would take place in China. The idea being that the first movie was about Europe; the second movie was about going to the frontiers of Europe and this one needed to be outside of Europe and far away. I thought that China was the right country because the three movies are really talking about globalisation, about the fact that this generation is related to a worldwide perspective. Then I realised it was too complicated to make the movie in China. And then I went to New York, and I've always wanted to make a movie in New York.
"I realised that New York was more appropriate because it's a city for travellers. No one is a New Yorker in New York - everyone's coming from all over the world and you hear all the languages in the street and I think probably much more than in Australia or France or in England. It's really like a small world."
Chinese Puzzle's portrayal of New York feels fresher and more modern than the New York we've seen on screen of late:
"I think it's a new New York. I was a student in New York 25 years ago, and it's a completely different city. So it was very striking for me when I started scouting locations, walking around the city, seeing what had changed. And I wanted to portray that. I think it's more interesting to show the New York you see from the street; rather than the tourist's point-of-view. "
Nevertheless, Klapisch found himself influenced by the greats.
"You can't shoot in New York without thinking about Woody Allen. He's really like the soul of New York in many ways. And Scorsese, but he's more about mafia and action movies. So when you're talking about real people or normal life, then you refer to Woody Allen movies. I realised when I was there that Woody Allen hasn't done a movie in New York in ten years. So New York has changed, and he's shooting in Europe now (laughs)."
Shooting in Manhattan proved a logistical nightmare for the production:
"It was very complicated. Big movies have a tendency not to shoot now in New York because it's too complicated to block the streets. So we didn't block the streets, we tried to use the feel of natural life in the streets. And I understood why Woody Allen doesn't shoot in New York anymore. It was super difficult. To be a French director and shoot in New York, there are so many different rules that we don't know and are not familiar with."
In Chinese Puzzle, Xavier's editor expresses concern whenever Xavier checks in and reports that his life is going well, because he thinks Xavier writes better when he's unhappy. Is this a view Klapisch shares?'
"I have to agree with that, and it's really because I thought about that myself writing this story. I thought at the beginning I would write a story about Wendy (Kelly Reilly) and Xavier being together and being happy, and then after two weeks I didn't have anything to write about. I realised that I had to create problems, I couldn't talk about someone being happy in a nice couple with a nice family, so there was nothing to tell if I was talking about happiness.
"It's not really a statement about life, it's a statement about storytelling. Because they're not the same. What we need when we watch a movie is not what we need in our real life. So the movie's kind of about that."
The characters in the film are all hovering around the 40-year-old mark, is that who Klapisch considers to be the audience for his story?
"It's funny because now I'm going in every city in France, I've been to twelve cities already, and the people who really respond to the movie are more 20-25 years old. It's funny because they really see something in their future in the film. In the same way I was watching Woody Allen movies when I was teenager and it wasn't my generation, but you can relate to that, because it says things about what you should avoid in life.
"What I wanted to say is you can make mistakes in your life, and it's not a problem. A lot of people might say that you have to fight to make it work, but if it doesn't work, it doesn't work. And you have the right to re-create something and be happy again."
* Looking forward to the French Film Festival? Comment below!