Nick Murphy - aka Chet Faker - tells Lydia Jenkin how he developed a way to perform solo.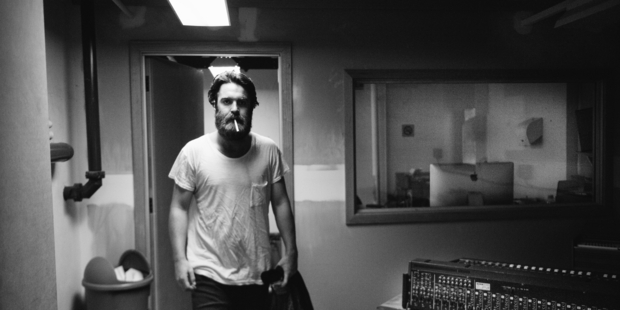 Sometimes the song that generates the most hype is not the one you expected. When Melburnian Nick Murphy did a late-night cover of 90s R&B hit No Diggity by Blackstreet in 2011, he really only chucked it online so his friends could hear it.
"I really didn't have any clear intentions with it. It was just an experiment in what sounds I could make production-wise, that was really all I was doing with the project."
But his soulful, seductive version that managed to be somehow both gritty and smooth, quickly spread round endless music blogs, eventually reaching number #1 on Hype Machine, and so Chet Faker was born - the name is a tribute to the vocal style of Chet Baker, whom Murphy admires.
Nearly three years on, he's released one very successful solo EP, Thinking In Textures, another collaborative EP with Flume, toured the world, become one of Australia's best-loved modern artists, and is just about to release his debut album, Built On Glass.
"There are some songs on the album that feel like a natural progression from Thinking In Textures, but I feel like an album is often a foundation stone of everywhere you move from then onwards in a career, within reason, so I've tried to keep it reasonably varied. There's a house song on there, it's not all down-tempo soul music.
" There's even a banger of sorts, or what I would consider a banger anyway," he laughs. "Some people might not."
He's an electronic producer with a knack for beautiful, deep grooves, and a compelling voice (fans of James Blake will find plenty to like), but he's also a multi-instrumentalist with a penchant for using retro instruments - like the Sequential Circuits Prophet 5, originally popular in the 80s, which was used a lot on the album.
"It's a pretty damn cool synthesiser, and I think it contributes to a denser sound than the EP. The EP was the first thing I ever put together, and I really didn't know what I was doing, and not that I know what I'm doing now, but I have a clearer vision, that's for sure. So I think it's denser, there's a lot more going on. It's not as simple as just bass, drums, guitar and keys, which was the case with some of the songs from the EP."
He also pulled out an instrument he hadn't played since primary school - the tenor saxophone.
"I played it in primary school for two or three years, but a friend of mine loaned me his saxophone a while back and I discovered I could still make a bit of noise with it, so I was just doing a million takes until I would get it right," he laughs.
How those new songs are going to work in a live setting is still a work in progress. Murphy never originally expected that he would be playing any of his material live.
"When I started this it was just a recording project. I had been playing live around Melbourne, doing different things, but this was just about recording. But once things started going a little bit crazy, and it became obvious that I was expected to play live, creating a band was definitely something I wanted to do, because the EP had such a band feel really. And also I just felt like there were a lot of dudes with laptops just standing on a stage at that time, and it wasn't all that engaging. I knew I wouldn't be happy with just a laptop."
But now he has worked out a way he can perform solo, and still be engaging. He still performs with his band on occasion, but for his next New Zealand performance, he'll be on his own.
"It's a set-up I busted my ass working on, it's kind of complicated, but it's good, I feel confident it's a good show, and it's not just me and a backing track. I'm triggering things and playing different things and looping things. And it allows me to play some songs that I might not play with the band, so there's different advantages to each of the shows."
Live shows are a huge part of the pleasure of songwriting for Murphy too, because they're often where he gets to share his thoughts with an audience for the first time.
"You can say things that you usually couldn't say, because it's not necessarily directed at anyone in particular.
"Most of the time when you're talking about 'how you really feel', you're telling someone specifically and they're expected to react, but when you're writing music people can listen without having to say something back."
Who: Chet Faker
What: New album Built On Glass, out April 11
When and where: Performing at the Powerstation on Saturday, February 22, with Hermitude.
- TimeOut