Colourful English cricket commentator has been in town talking up his new book — his 17th — and his glamorous new Italian wife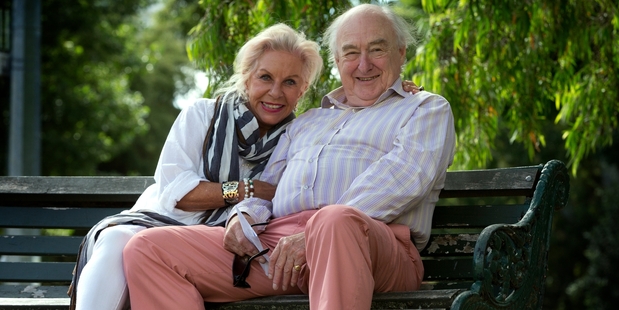 On Thursday morning, the English cricket commentator, author, bon vivant and performer of stage shows about his colourful life, Henry "Blowers" Blofeld, was in the breakfast room at the Pullman Hotel talking to his wife, Valeria.
He is 74 and was wearing pink trousers, a shirt with lilac stripes and white, yellow and navy Ralph Lauren boat shoes, no socks.
Valeria, who is a little younger, and much blonder, was all in white with silver sandals and impeccable make-up. She is one of those formidably well-groomed Italian women who can wear white and eat spaghetti alla bolognese for lunch without having to get changed for dinner.
He is a messy, plummy-voiced Englishman who is perhaps as well-known for his fanciful observations of buses and birds (seagulls, pigeons and, inevitably, the non-feathered kind) as he is for his observations of cricket.
He is what is called an institution. He started at the Times in 1962 and joined the BBC's Test Match Special team a decade later.
He still does about "seven or eight" test matches a year. He has always been a freelancer; in life as in career.
Mr and Mrs Blofeld are "sort of" on their honeymoon. "We've both," he said, "had honeymoons before." They married on December 3 - the third marriage for both of them - at a "marvellous" and posh five-star boutique hotel which belongs to a friend of his.
He knows a lot of people, some posh - of course, because he is posh in that grand but "never that flush" English way, from farming gentry - and others not a bit posh and many of them wander through the pages of his latest book, Squeezing the Orange: Life's Great Adventures - and the Cricket too!.
Squeezing the Orange is a very good title; it is, he thinks, his 17th book. You might think that he'd squeezed that orange fairly dry by now but he is already planning another book. This one covers his life from birth and ends in April 2013 - the occasion of a stay at the Grand Hotel Europe in St Petersburg as guests of the general manager, who is another of the people he knows. So you'd think he wouldn't have much more to say, but of course he does. He thinks the next one might be about his views on many of the matters he has strong opinions about and which he'd like to "get off my shoulders". One thing you can be sure of: It will not be PC. He loathes PC and keeps golliwogs because he claims to like them but also, I'm sure, because saying so gets up noses.
He says he is "impossible, in a word, really" to live with, but that I must ask Valeria as she was the one "at the coalface". I did and she said he was great fun and a great gentleman. Still, she must be a woman of great patience. He is dreadfully absent-minded and loses his glasses, and "mobile telephone" (I was rather surprised that he doesn't call buses, omnibuses) and keys and God knows what else all day long. Also, he is a terribly messy eater, which you'd think would be a bit of a trial for a woman who can wear head-to-toe white. He claims to have taken up his trademark bow ties because, having never been taught to eat properly, he spills food all down his front. But this is plainly balderdash because he writes of his childhood that: "Table manners were rigidly enforced."
So I said: "Now, about the bow ties ..." and he said, a bit snippily, I thought: "What about them?" But he then said I was quite right about this apparent discrepancy but that his mother used to gobble her food, "at a great rate of knots", despite the rigid enforcements. "So I do agree with what you're saying, but I don't think I was ever very tidy."
Anyway, Valeria has sorted him out in the messy eating department. She made him a chain, with silver bunches of grapes at either end, and clips so that he can clip on a napkin. He carries this in his pocket all the time. Except when he loses it, which is about five times a day.
He said, perhaps by way of explanation for the fact that we somehow forgot to talk about the cricket, that cricket is only "a very small part of my life now". He has become a sort of showman - with his stage shows - but he has always been a showman. Valeria is now his manager and books theatres and looks after "the merchandise". I was imagining tea towels and mugs, with his mug on them. Although that would be a bit common, don't you think? You'd think right. The merchandise is his books, of which there are a great many, and his wine, which he hand-picks through a wine company - "Blowers' wine for one who lives principally through suction!" and flogs off to audiences. He hasn't got any on him to flog here: "It's like coals to Newcastle, in my humble opinion."
He was in Auckland for the Writers Festival to speak at a luncheon at the Northern Club, but he and Valeria had also been driving all about the country seeing his old chums and drinking wine.
He used to drink two bottles a day - perfectly fine for someone with his metabolism, according to him and his doctor and "not every day". Going by his book, there could well have been a few days on which more than a couple of bottles were polished off. But he now drinks only one a day.
He once, early in his reporting career, got so drunk on an Australian tour that after he'd cabled his copy to London, he forgot he'd done so. He phoned it in, went to bed, woke up and forgot again, so phoned it through again and then phoned the sports editor to ask if they'd received it. They had, the editor said, for the third time.
He writes in the preface to his memoir: "I know I have been horribly self-indulgent and hedonistic and altogether pretty selfish." I wondered whether he really thought this and, more to the point, whether he felt badly about it. "Oh, yes, I think I have been pretty selfish. I've lived a life where it's easy to put yourself first because you're on your own a lot of time, touring overseas ... I think, yes, that's a black mark against me."
That is about as near to an examination of self as he gets, really. He doesn't spend any time examining the failure of his first two marriages. Wife number one appears and then, poof, she's gone; Wife number two makes an even briefer appearance, then poof. Valeria does rather better, but he says she is the great love of his life. "You know, I'd no more jump ship with Valeria, if you know what I mean, than fly to the moon." He likens his relationships to his inimitable style of commentary. "In the same way that when you're commentating, you stay with the cricket; when the cricket gets dull, you look elsewhere." At buses? Seagulls? "Whatever's there."
When he was 17 and at Eton he had a terrible accident: He was run over by a bus, while bicycling. He writes: "I lay like a broken jam roll in the gutter." The bus was carrying a group of ladies from a French Women's Institute. This sounds like something out of a book by his adored PG Wodehouse - he used to have a collection of first editions but had to sell them during one of his many financial crises. He is hopeless with money. It just leaps out of his pockets. "My daughter (Suki) always says that if she walked down the street behind me, she'd never have to work again."
He was a very talented young cricketer who was never the same after the accident and a month in a coma and a number of brain operations (he says he lost his reflexes and intuition and became a mechanical player.) He was a great hope to play for England and people still lament the loss of what might have been on his behalf. "I've never worried terribly." Shall we do the Freudian analysis about his musing on buses when commentating? "He, he, he!" In other words: No thanks. A great friend of his likes to say that he had an acute attack of bus-itus, "because I was run over by a bus!"
His image is a benevolent one, "bluff and hearty", as the Spectator has put it, before going on to note his caustic edge. He said, bluff and hearty, as soon as we sat down, "it's very noble of you to come and interview me". He often says this to journalists. His catch phrase is "my dear old thing". This arose from being so hungover, on an epic trip from London to India in 1976, in a 1922 Rolls Royce, that he couldn't remember his great friend Michael Bennett's name when he tried to leave a note for him at a hotel. He began: "My dear ... " and, stumped, substituted, "my dear old thing". He can't remember how this grew into his catch phrase and is not much interested in trying to remember. I suspect it comes in handy for not having to remember most people's names.
He was excessively nice to a chap from the hotel who came and turned off an enormous TV screen (he can't abide television; it is a lot of "guff") after we had failed to do so. "Oh thank you so much. It is really kind of you," he said, beaming away. He was making up for throwing a tantrum earlier after he'd been unable to manage to get an outside phone line from his room. He got a bit caustic with me when I said that Prince Philip was a terrible man after he'd spent some time telling me what a terrific and highly intelligent fellow he was. He is very impressed by clever people because he says he's not at all intelligent and he never got close to his father because he was an intellectual, "which meant there was a great gulf between us".
He knew the Queen Mother, "a bit" and used to go to lunches with her and she was great good fun: "On her own terms." He's met the Queen, a few times, and there's a picture in the book of HM presenting "an amazing fruit cake" to the commentary team at Lord's.
She didn't make it, I foolishly said. "Are you sure?" he said, giving me a gimlet look which he must have inherited from his mother. He once said of her that she was a cross between Queen Victoria and Attila the Hun. Of course he adored her. They shared a great many of the same views about people and life. What things? "Oh, I'm not going to tell you. No. No." Because it will make both of them sound snobbish? "Of course it will. Probably. My mother was a great snob. As of right, entirely."
I don't know whether he's a great snob. Probably. But he's also great good fun, if you believe Valeria. And impossible, really, if you believe him. I believe both of them.