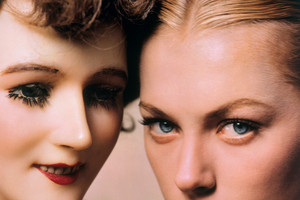 Beauty queens have large fake ones; Kate Moss' rarely show. Victoria Beckham seems to have misplaced hers completely. They're also hard to find in the enjoyable Victoria and Albert century of Western fashion photography show at Auckland Museum (until February 28): models, it seems, will pucker up for a pout or an air-kiss, but not for a smile.
The show's "fresh" laughing Twiggy is a notable exception, but the rarity of pearly whites even early on in high fashion publicity is curious. The exhibition is aptly named Selling Dreams. So why don't couture advertisers and their magazines overtly sell the dream of happiness? Why has Zoolander's lemon-sucking "Blue Steel" pose beaten out Mona Lisa allure? Why is a grin always the exception to the cruel?
The aim of "absent, unfocused" expressions in "glamour" images is to increase the viewer's envy, suggested socialist art critic John Berger, back in 1972.
As we look with interest at the model, she disdains us as worms; where happiness invites us in, haughtiness shuts us out.
One of the rare smiling women in Selling Dreams, photographed by Erwin Blumenfeld in a stunning, swathed dinner dress in 1947, excludes us in another way: her eyes are closed. Meanwhile, Cheryl Tiegs and Rene Russo - goddesses clasped in each other's arms, dancing on top of a volcano in a breathtaking 1974 Helmut Newton image - avoid us by smiling at each other, pretending the camera's not even there.
The photographs bar us from the model's world; they bar us from being envied as we envy her, until we buy what she's selling. As Berger described the viewer: "The publicity image steals her love of herself as she is, and offers it back to her for the price of the product."
Perhaps also, models are role-modelling apathy in the face of a miserable world (Keep Calm and Shop).
Or, to be more generous, perhaps art directors feel that smiles look "inauthentic". And not all fashion non-smiles are scornful or bored, nor are they always directed at the viewer. They can be fierce or sorrowful or intense. The expressions can say, "I am not to be messed with" or "I am deep enough to have suffered greatly".
This plays on our received wisdom that tragedy is more noble than comedy; that a frown lends gravitas. The corollary message is that high fashion itself is deep enough to be taken seriously. The lack of smiles shows status anxiety on the part of the whole industry, vis-a-vis "real art". A 1911 soft-focus Edward Steichen image in Selling Dreams shows the solemn earnestness of Pre-Raphaelite beauties (by referencing art, high fashion evokes notions of quality, luxury and cultural value).
I try not to forget that high fashion (like art in general) is a business selling expensive items to a very small market, but I agree that fashion should be taken seriously. Its products and publicity can be remarkable, creative and influential, and clothes are important markers of personal identity.
But that's true whether or not fashion's muses are shown unamused.