Jane Campion's haunting New Zealand-based Top of the Lake nominated for best mini-series/TV movie.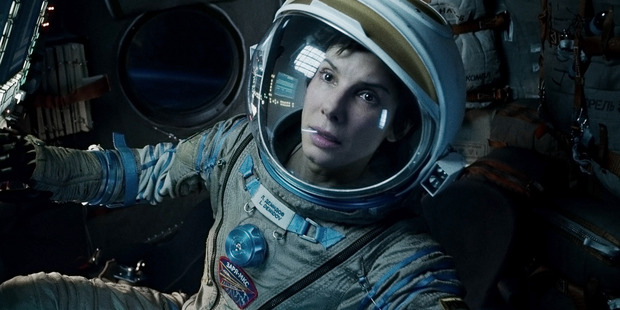 Sandra Bullock in a scene from 'Gravity'.
The Oscars may still be almost two months away, but Hollywood is already in the grip of awards fever.
The Golden Globe Awards will be handed out this afternoon, New Zealand time, four days before the Oscar nominations are announced.
Serious film types often dismiss the Globes as irrelevant to the inner workings of Hollywood, since the awards are chosen by a small and self-selected group of foreign film journalists, few of whom are credentialled to major media organisations.
But that hasn't stopped the awards show from becoming one of the best-known Hollywood events of the year.
Since 1956 the Globes have been honouring the best of television as well as film, unlike the Oscars, which focus only on movies.
In the past, the Golden Globes have had a haphazard record at predicting Oscar success. That is unlikely to change this year. But with critics acclaiming this year's crop of movies one of the most award-worthy in recent memory, there's bound to be a significant overlap.
That augurs well for 12 Years a Slave and American Hustle, the two movies which came out on top of the nominations, earning seven nods apiece.
Unlike the Oscars, the Golden Globes split their choice in two - choosing separate pictures for best drama and best comedy or musical.
That means Steve McQueen's haunting tale of a free black man kidnapped into slavery is the clear favourite to win the award for best drama, while David O. Russell's finely crafted caper about an FBI sting operation is just as sure to win for best comedy or musical.
The odds are best reflected in a closely-watched poll of experts conducted by entertainment awards site GoldDerby.com. Of the 19 experts it asked, 18 predicted victory for American Hustle, with just a single dissenter going for the poignant tale Nebraska.
The other comedy or musical nominees are Her, about a man who falls in love with his computer, Inside Llewyn Davis, a rom-com set in the folk music scene of 1960s New York, and The Wolf of Wall Street, Martin Scorsese's critique of the excesses of the finance industry.
Similarly, 14 of GoldDerby's experts chose 12 Years a Slave as the best drama, with the other five going for Alfonso Cuaron's space thriller Gravity. The other nominees are maritime thriller Captain Phillips, Formula 1 epic Rush, and Philomena, about a woman's quest to track down the baby she gave away for adoption.
If such equations take much of the suspense out of the show, there's still plenty of other reasons to tune in.
Film fans will not want to miss the stars strutting the red carpet. This year's faces include Cate Blanchett, Sandra Bullock, Judi Dench, Emma Thompson and Kate Winslet, who are up for best actress in a dramatic motion picture, as well as Amy Adams, Julie Delpy, Greta Gerwig, Julia Louis-Dreyfus and Meryl Streep, who are competing for the best musical/comedy actress prize.
Among the men Christian Bale, Bruce Dern, Leonardo DiCaprio, Oscar Isaac and Joaquin Phoenix are the nominees for the best actor in a comedy or musical, while Chiwetel Ejiofor, Idris Elba, Tom Hanks, Matthew McConaughey and Robert Redford are vying for the dramatic acting award - 77-year-old Redford's first nomination for an acting Golden Globe.
- AAP