Idris Elba tells Stephen Jewell that playing Mandela was his toughest challenge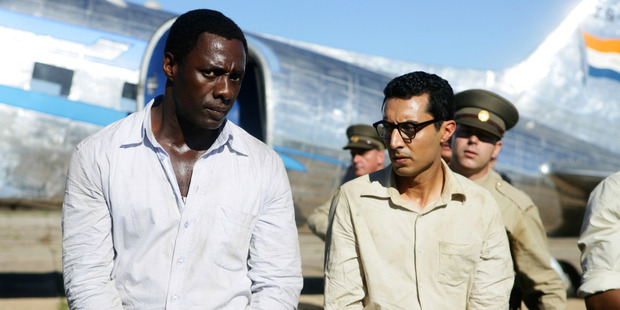 Idris Elba as Nelson Mandela, with Riaad Moosa as fellow detainee Ahmed Kathrada in Long Walk to Freedom. Photo / AP
When it came to portraying Nelson Mandela on the big screen in Justin Chadwick's adaptation of the former South African President's autobiography Long Walk to Freedom, Idris Elba looked close to home. But the East London-born actor's choice to use his late father Winston as a model for the older Mandela has taken on an added poignancy with news only 24 hours after our meeting that the man who was affectionately known to his people as Madiba had died at the age of 95.
"There were similarities between him and my dad in the way that they both would move and gesture," says Elba. "My dad passed away only recently but he got to see some of the film. He kept saying things like 'it looks like your uncle' or 'it looks like granddad'. He didn't recognise himself but he recognised his brothers, which I thought was funny. To be honest, it was so recent that I was reluctant to do this press tour but I know that my dad would have wanted me to. It's my greatest piece of work and it's dedicated to him."
Admitting that he "has probably done more roles in other accents than my own," Elba first rose to prominence after his impeccable performance as drug lord Stringer Bell in HBO's The Wire, which had even native Baltimore residents convinced that he hailed from Maryland and not Newham. Since then the 41-year-old has alternated playing the irascible titular police-man in the BBC's Luther with appearances in blockbusters such as Thor, Prometheus and Pacific Rim. However, taking on the role of a popular and charismatic world figure such as Nelson Mandela has proved to be his toughest challenge yet.
"It really does come with a lot of responsibility," he says. "You walk into a room and immediately it's 'that's the guy that played Mandela. Let's see what he has to say.' It's an added pressure but that's fine. It also comes with a bit more power in a sense. The work I like to do with children and so forth is important to me and always has been. Doors are opening up so much easier now because I've played Mandela."
Charting Mandela's journey from being a headstrong young lawyer in 1940s Johannesburg to his election as South Africa's first black President in 1994, Long Walk to Freedom spans over 50 years of the anti-apartheid activist's turbulent life. Donning prosthetics to resemble the 70-year-old Mandela, Elba would often have to play him at different ages during the same day's filming. "That was very demanding," he says. "But it also helped me to get to know my character well because one minute you're here and then the next you're there. The more you know as an overall map, the better. The make-up would take four hours every day and sometimes I had to get in at four or five in the morning. But it's interesting because the early Mandela in the film looks nothing like Mandela as we're just asking the audience to come with us. By the end, the audience gets paid off with what we think is an interpretation of the real Mandela with characteristics like the shirts and the hair. But in actuality, the older Mandela is actually just Idris getting older."
For Long Walk to Freedom's most harrowing scenes, Elba adopted a more hands-on approach. He spent a night locked up on Robben Island, the harsh jail off the coast of Cape Town in which Mandela spent most of his 27 years behind bars for leading a sabotage campaign against the ruling regime in the early 1960s. "I got a lot of anger out of that but also context and understanding of what his first moments in that cell must have felt like," he says. "He'd already been to prison but this was Robben Island, which he was not going to leave. The prison scenes are a big part of the movie and that experience really informed what I was doing. Robben Island is a very historical place as so much stuff has happened there. I needed to understand that."
Elba was determined to get under his subject's skin. "I had to find out the difficult things about him," he says. "The stuff that made him more human like his relationship with his daughters as he was a very strict dad. As warm and fuzzy as everyone thinks he was, he was quite stern with his children. His first marriage completely broke down and the details are not enjoyable to read. You can't imagine Nelson Mandela being treated like a slave in prison but if you read what happened to him there, it was no fun. I don't think everything he did was saintly but I realised he made his decisions from the heart, not the head. Not a lot of us do that because to make a heartfelt or a gut decision is a difficult thing to do."
Long Walk to Freedom opens in New Zealand on January 30.