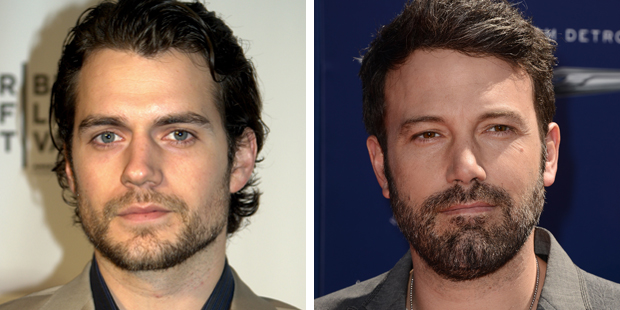 Batfleck brouhaha be damned; Henry Cavill has got Ben Affleck's back.
That the internet blew a fuse following Warner Bros.' announcement that Affleck would play Batman in Zack Snyder's Man of Steel sequel, is true.
Reactions in cyberspace ranged from lukewarm, to cautious, to toys-out-of-the-pram outrage. Thousands also signed an online petition protesting the casting, asking Warner Bros. to "remove Ben Affleck as Batman/Bruce Wayne in the Superman/Batman movie," claiming he "won't do the role justice".
And there was no shortage of punditry from Hollywood when it came to opining on Affleck donning the iconic cape and cowl.
Former Batman Michael Keaton chimed in and gave Affleck his Bat-blessing, Val Kilmer and Adam West both offered support on Twitter; and even Christian Bale wished Affleck all the best (and offered some handy tips on averting a watery disaster when he's in his nipple-free Batsuit).
As for George Clooney, he conceded that he was probably "the least qualified person to comment on anyone playing the role of Batman". Two words: Batman & Robin.
But we've heard nary a word from current Superman, and Affleck's soon-to-be co-star, Henry Cavill, about the new Batman. Until now.
In an interview with Total Film to promote the Blu-ray release of Man of Steel, the 30-year-old star shared his thoughts on the contentious casting.
"I'm sure he'll be fantastic, above all else, and as a filmmaker he's got his own style, you know, he's not copying anyone else," he shared. "And he's also sort of been tenacious in his career."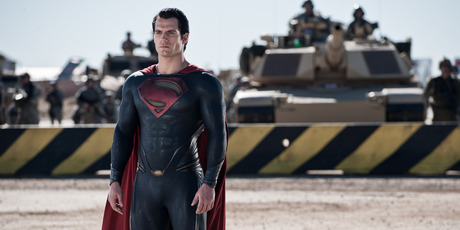 Cavill, who was recently declared the sexiest man in the world - at least, according to British Glamour readers - added: "He's had ups followed by downs and now he's very up again and I think that requires and shows a very special strength of character, and it's something which I enjoy working with because jobs like this require a strength of character.
"They require a dedication to the work and a belief in oneself and Ben has that, clearly."
Check out Cavill's brief interview below:
The sequel's producer Charles Roven also recently discussed Affleck's casting as Batman.
He told Variety: "We wanted a guy who had a certain age and a certain gravitas to what he had done in terms of his recent work.
"If you take a look at The Town and Argo, he plays a couple of serious guys in those movies. He's a big man. He's also a mature man.
"As you see him and Henry together, one definitely has much more experience just by looking at him. That's what we wanted, particularly juxtaposed against our Superman."
On the subject of two of the world's most popular comic superheroes meeting on the big screen, he added: "We knew we had created a world and we had left Easter eggs in the movie [Man of Steel] that let people know that in the universe that Zack [Snyder] was creating, there was the possibility of other DC characters besides Clark Kent.
"We had a sketch of an idea, the beats of a story that David Goyer worked on with Zack. We have a first draft, and we're continuing to work with it.
"Those scripts are never fully finished until the movie is in the theatres. We love the characters - we think that Ben is going to be a really great and interesting Batman."
Speaking of potential cameos from other characters ...
Recent speculation suggested that when Superman faces off with Batman in the sequel, they may have some female company.
Per a report in Variety last month, three actresses "have or will test" to play the "female lead" in the movie which - if the rumours ring true - could turn out to be Wonder Woman.
The website claimed that Olga Kurylenko (Quantum of Solace), Gal Gadot (Fast and Furious) and Elodie Yung (G.I. Joe: Retaliation) are in the running for a part which, based on a casting description of someone "tall, brunette, athletic and exotic," matches that of the Amazonian warrior princess. Although Variety sources said it could also describe the role of Bruce Wayne's love interest.
A rep for Kurylenko kept schtum about the rumoured audition, telling E! News, "We are not in a position to make any comment or quote."
Website Schmoes Know also claimed Kurylenko had auditioned, and threw Thor star Jaimie Alexander's name into the mix.
Forbes.com then reported that Alexander revealed she met with producers regarding a female role in the movie.
The Man of Steel follow-up, tipped to be called Batman vs. Superman, is slated to hit the big screen in July 2015.
NOTABLE NUGGETS
And finally ...
* Form an orderly queue: George Clooney says he hasn't met the love of his life yet.
* Pac-Kerr update: Miranda Kerr is not dating billionaire James Packer, per an unnamed E! News source; Orlando Bloom opens up about split.
* This again: Mel B wants a Spice Girls reunion tour, but Victoria Beckham has far better things to do.
* From smoking pot to losing his virginity: Joe Jonas isn't holding anything back in his essay for Vulture.
* The Kardashian Kristmas Kard is here. But did Kanye make the cut?
* Lady Gaga replicated as a life-size doll.
* Rita Ora joins Fifty Shades of Grey movie as Christian Grey's sister.
* Way, way TMI, Sharon Osbourne.
* John Mayer and Katy Perry are all loved-up in Who You Love artwork.
* Gillian Anderson strips off and covers her modesty with an eel for a good cause.
* Roseanne Barr goes on an epic Twitter rant.
* Darth Vader is now into selfies.
- Rumour Has It