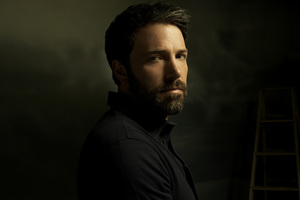 Ben Affleck's casting as Batman in the new Man Of Steel follow-up movie has earned him a host of criticism.
But the 41-year-old actor certainly isn't letting the negative comments affect his decision to take on the role, insisting he is more than capable of playing the Caped Crusader.
During an interview on Late Night with Jimmy Fallon, the 41-year-old star said: "I'm a big boy. If I can handle an Emmy snub, I can handle anything."
The Oscar winner explained how Warner Bros prepared him in advance of the uproar his casting would cause with fans.
"The people from the studio were like, 'We're thrilled ... and listen we want to talk to you because people go through this process and it can be a little trying'," he recalled.
"They said, 'We want to show you some of the reactions that past cast members have got on the internet'."
In the interview with Fallon he also joked about Batman actors having received responses as angry as, "Kill him!"
Affleck replaces Christian Bale as Bruce Wayne in the upcoming Superman vs Batman and will be the eighth actor to play the Caped Crusader - following in the footsteps of such luminaries as George Clooney and Michael Keaton.
The first time the Argo director played a superhero on the big screen was in 2003 when he played comic book superhero Daredevil.
Affleck was announced as the new Batman in August via the Warner Brother's Facebook page.
Affleck admitted he didn't think he was young enough for the role, until he was given the vote of confidence when he heard about Zack Snyder's spin on the iconic comic book hero.
"An incredible take on it ... this is a brilliant way to do this," he told Fallon, while confirming moviegoers will see a different take on the character than Christopher Nolan's The Dark Knight.
Fans have a long wait to watch the finish product as Superman vs Batman is scheduled to be released on July 17, 2015.
- Daily Mail