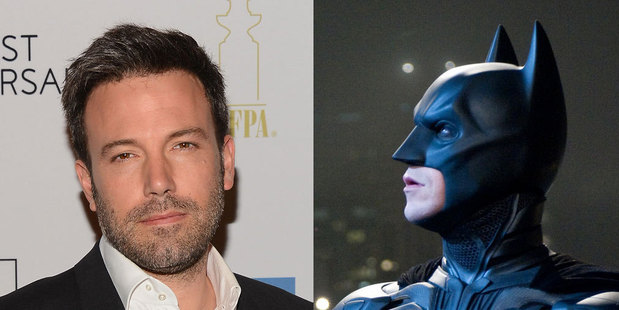 Christian Bale has given Batman successor Ben Affleck some important (and somewhat useful) advice for playing the Caped Crusader.
The Brit actor, who played the superhero in Christopher Nolan's Dark Knight trilogy, reveals that he has spoken to Affleck about stepping into the role.
There was no waxing lyrical about Affleck finding the character's motivation, or trading tips on developing his own signature growl. They talked practicalities - mainly how Affleck can answer the call of nature when he's in his Batsuit (don't think of waterfalls, rivers, or dripping taps, Ben).
"I wish him all the best. He's a very experienced actor and filmmaker. He'll make it his own," chimed Bale to Access Hollywood while promoting his new film, Out of the Furnace, this week.
"Our thing's finished, and we always declared that it was finished," he said. "It should be passed on to another actor, and will be again after him."
Asked if Affleck had reached out to him for any advice, he replied: "The only thing I said to him was to make sure he can take a piss without anyone having to help him. Because it's a little bit humiliating - as I went through - because you have to have someone kinda' help you out of the costume in order to be able to do that. That was my main piece of advice for him."
Henry Cavill will star alongside Affleck in the Man of Steel sequel, which opens in cinemas in July, 2015.
Check out Bale's interview below:
While doing the promotional rounds for his new movie, Bale also opened up about his original audition for Batman Begins, and how he came up with Batman's signature deep-throated voice.
"I got there. They put me in Val Kilmer's suit," Bale shared with MTV News.
"It didn't even fit properly, and I stood in it and I went 'I feel like an idiot.' What kind of guy walks around, dressed like a bat? And is then going to go 'Hello, how are you? Just ignore that I'm dressed as a bat'."
He added, "Of course, he's meant to be doing this. If you look at the history of the guy and the pain that he went through. I went 'I can't do this in a normal voice. I have to become a beast in order to sell this to myself'."
Bale continued, "I went home that evening, and my wife said, 'How'd it go?' I went, 'I kind of did this.' And I showed her, and she went, 'Oh, you f***ed that one up, didn't you?' Thank God they went for it."
He also had another pearl of wisdom for Affleck.
"[The voice] ain't for everybody. Ben's obviously going to have to do his own thing, but it was the only way that I could find how to get into that and to justify wearing the fricking Batsuit," he explained. "Otherwise, he's just loopy beyond belief. He's loopy, but he's loopy with a method to his madness."
Bale believes it doesn't matter who's wearing the mask.
"I wish [Affleck] the best. You look at this kid, Batkid .... That gives the whole point. It doesn't matter which actor is playing him. He's a symbol. He's so much bigger than any actor. That's all," he noted.
"This little kid, he doesn't really care which actor's playing him. It's the symbol of the whole thing, and that's what makes the character so fantastic. I look forward to seeing what Ben will do with it."
Watch Bale's confab with MTV News below:
NOTABLE NUGGETS
And finally ...
* "I would write creative genius when I go through the airport...I would put that on customs [forms], where you put what your title is, except for two reasons: it takes too long to write and sometimes I spell the word genius wrong" - Yep, the words of a modesty-averse Kanye West; Kim Kardashian goes topless in West's Bound 2 video.
* Must watch: Sesame Street's punny parody of The Hunger Games.
* Thor star Tom Hiddleston sings karaoke to Stand By Me inside a car on German TV show. Enough said.
* Taylor Swift hints Jake Gyllenhaal, other ex-boyfriends have responded to her songs. A reconciliation with old flame Harry Styles on the cards? Not likely.
* One Direction "frustrated" over new album leak.
* "The world needs to get over the fact that she was Hannah Montana" - Demi Lovato defends Miley Cyrus.
* Brittany Murphy's father tells Good Morning America his daughter may have been poisoned.
* Nothing wonderful can come of this: It's A Wonderful Life sequel in the works. Bah humbug!
* Monty Python reunion planned for new stage show.
* This is just weird: George Clooney 'lookalike' reportedly offered thousands to sleep with man's wife.
* Nicole Kidman says winning an Oscar showed her the emptiness of her life after Tom Cruise divorce.
- Rumour Has It