A longfin tuna curls on itself, this time in bronze, symbolising the species' 'downward spiral to extinction' because of habitat loss and overfishing.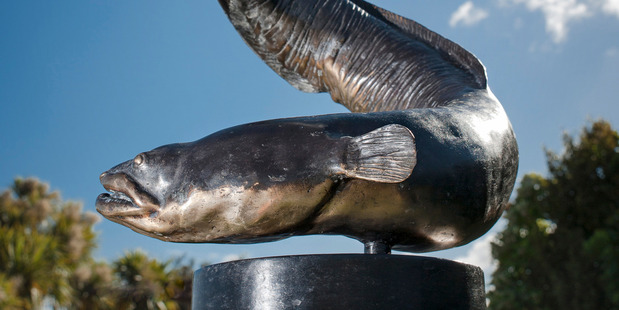 Language learners sometimes stumble over "false friends", words that look similar in two languages but mean different things. In French, "sensible" means "sensitive". In Maori, "ti" tree isn't another name for manuka. Rather, ti is a cabbage tree.
And "tuna" means "eel" in Maori. Everything I know about this remarkable type of tuna I have learned from artists. First - as I missed out on Patricia Grace and Robyn Kahukiwa's classic magic-realist 1984 kids' book Watercress Tuna and the Children of Champion Street - was Mark Davidson. His intricate 2003 pebble mosaic in Ponsonby's Western Park includes two tuna, a reminder that tuna (historically revered and eaten by Maori) lived in the steep gully before their stream was turned into parkland.
Next, I read in Peter Peryer, Photographer (2008) about Peryer's childhood memories of a mechanical digger scooping up "streaming bucketfuls of muddy earth" from a paddock drain: "I remember the horror at how these scoops contained eels, twisting in every direction as they writhed around ...
For eels to be able to live in the middle of a cow paddock, in mud, far from running water, still gives me the shudders."
The third artist was the late Jude Morrah, whose Waihi mosaic garden I visited in 2010. Morrah was delightful. Her hair served as bird's nest (well, bird perch) for a small cock sparrow, and her garden was full of terrible puns: her own interpretation of "Tea Tree" sported teapots and cups.
Away from the crockery crocodiles, there was a real live tuna, called Jaws, that lived in the garden creek. Morrah fed Jaws eggs, and told us the tuna was about 15 years old and that when she was about 30 she would swim back to the Pacific - perhaps near Tonga - to spawn and die. Incredibly, some longfin tuna females have even been recorded at over 100 years old. Exact details of the marine part of their life-cycle are still unknown.
My last tuna lesson, just this week, was at the Auckland Botanic Gardens' fabulous sculpture exhibition (on until February 16). Cantabrian Bing Dawe's piece (this year's Friends' Acquisition, to be permanently displayed) is simply entitled Tuna, and it's similar to a wooden sculpture which T.J. McNamara described in August as showing "Dawe at his most impressive". A longfin tuna curls on itself, this time in bronze, symbolising the species' "downward spiral to extinction" because of habitat loss and overfishing. It is mounted on a spiral pedestal, representing the Archimedean screw, historically used to drain land for agriculture, and thus turning the tables - or is that turning the screws? - on Peryer's picture of loathsome wriggling mud. We don't want tuna in our paddocks, but they'd prefer not to be there either.
Dawe reminds us that as potent as the longfin tuna is as a symbol - ancient monster, nutritious bounty, mysterious traveller, boundary-crosser (between water and bog and fresh and salt water), it is in danger of becoming only a symbol. Western Park has no longfin tuna left, only a pavement artwork. Is the future under our feet?