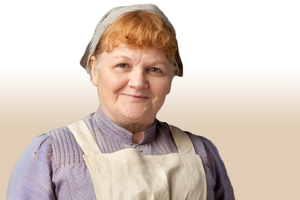 Mrs Patmore, the resident cook at Downton Abbey, is played by veteran English actress Lesley Nicol. Known in Britain for her stage and television work, including a series of tea commercials, she has some of the wittiest lines on the period drama.
Can you cook in real life?
No, not really [Laughs]. I mean, I can get by, but I think the world is made of two types of people - ones that follow recipe books and ones who can just dive in and create something. I'm the recipe-book one. But it doesn't always work out, even when I do a recipe.
So you don't film at Highclere Castle often because your scenes are mostly in the kitchen?
It is split into two. When they are in the house upstairs, that is the real castle, Highclere Castle - beautiful, beautiful building. What they decided to do was build a whole joining set at Ealing Film Studios, in London. It's an amazing set. Literally, you walk into my kitchen, and that takes you through to the servants' hall and the corridors and bedrooms, so it is quite a big set.
It stays there for the amount of months we are filming.
Do you have much contact with the upstairs actors?
No, no. I mean, generally speaking, I don't see as much of the other guys as some of the other servants do because I'm locked in the kitchen.
What brought you to acting?
I think the obvious answer to that is shyness. I think it's true of a lot of actors. I know it sounds a bit weird if you are prepared to stand up in front of 2000 people, but it's very simple. What you are doing is being somebody else. That gives a sort of sense of confidence. I suppose that is what happened to me. The first time I ever got up on a stage I did a comedy poem. I don't know how I got there in the first place because I was very, very shy.
Has the direction your career has taken been satisfactory to you?
Um, I sometimes wonder what it would have been like if I'd got Downton Abbey when I was 22. But you know what? I don't know if I would have been able to embrace it like I do now. When you look back, I think things are as they are meant to be. Timing is very important. The timing of this particular job was rather perfect for me. It happened to be the right part at the right time. I was the only person who was seen for it.
So do you like your character?
I love her. That's the brilliance of [series creator and writer] Julian Fellowes, really. When I first read the first two scenes, it just looked like she was a bossy, cross-faced old woman, you know. The marvellous thing about Julian is he knows very well that nobody is just that.
We're all something else, aren't we? We're all lots of things. So the joy of the job for all of us is he's allowed us to develop and for people to see other sides [of the characters].
- AAP