Practice makes for perfect death-defying stunts, finds Nick Grant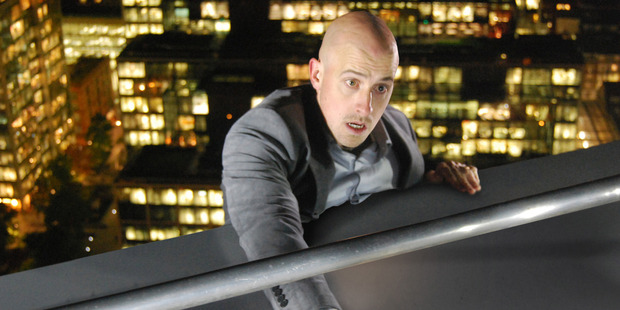 Jonathan Goodwin was just seven years old when he decided to defy death and dismemberment for a living.
"Like any kid, I was fascinated by superheroes," he recalls, "so when my dad gifted me a book about [illusionist and stunt performer] Harry Houdini, what was resonant for me was he was real, he did the things I read about, as opposed to the cartoon characters on the telly and whatnot.
"I realised that aspiring to be that character wasn't foolish, it was something you could do as a job."
Does his father regret his choice of present all those years ago?
After all, in last week's opening episode of stunt series The Incredible Mr Goodwin, dear old dad gave every impression of being less than impressed with his son's choice of career, noting with what seemed to be long-suffering forbearance that "he's always experimented and done what
I consider to be silly things at times".
"My dad's a funny one," Goodwin laughs, "because I think he's secretly proud of me but at the same time my mother really disapproves so he'd never say it. He has to tow the company line."
After being inspired by Houdini's example, Goodwin says he "obsessively" practised the art of escapology until the age of 15, when puberty provided another focus for his attention.
"When I discovered girls, I erroneously thought having a large handcuff collection was a bad thing," he says, "so I stopped for the longest time."
During that seven-year break, Goodwin finished school and attended university, where he "studied drama and theatre studies, because I thought I wanted to be an actor. It was actually my degree that put me off. That's when I got back into the old manacles."
Goodwin has been "doing dangerous, stupid things" professionally for a decade. One of his early gigs was performing in the breaks between dancing girls in London's burlesque clubs, and one of his routines from this period remains a firm favourite, as well as an excellent example of his approach to performing.
"It's all about getting the maximum reaction for the scale of the stunt," he says.
"I used to do an escape called 'Splat the Rat', where I would get a woman up from the audience and give her a baseball bat. The premise was that after she's been blindfolded, I'd spin her around, the audience would count backwards from 20 and then she had one swing to see if she could hit the rat while she was disoriented and couldn't see.
"So she'd be standing there blindfolded with the bat and I'd hold up a sign saying I'd lied to her, this isn't Splat the Rat, it's the Nipple Ring of Doom. I'd take my shirt off and, without her knowing, attach a ribbon from my nipple ring to the bat, then my hands would be cuffed behind my back and the audience would do their countdown. So basically I had 20 seconds to escape the cuffs and cut the ribbon or I'd have my nipple ripped off.
"What I love about it - and you'll have to excuse my language - is the 'oh f***' moment, where you're taking the audience down a path and they don't know exactly where it's going and then you put one last piece of the puzzle into place and they realise what you're about to do.
"It's important to create stuff people completely understand. So many traditional escape artist routines don't mean anything to anybody because they involve big shiny boxes and 10-tonne daggers and stuff people have never seen before.
"But when I attached the ribbon to the nipple ring it was pretty special because everyone knew exactly what it was going to feel like if she tried to hit that rat and my nipple was still attached to the bat."
The fact Goodwin still has a matching pair of nipples, not to mention limbs and life, is down to two things.
First, practise, practise, and then more practise for good measure.
"I'm aware the TV show makes it look like I'm good at lots of different things but what I tend to do is pick one thing and concentrate solely on that," Goodwin says.
"For example, in the series you see me hit a dartboard in a specific spot from about 20 feet away.
"That was the result of me practising that one thing for about two months solid.
"If I've got one innate talent it's sheer bloodymindedness - when I set my sights on something I don't give up."
The second secret to Goodwin's survival?
"People think I don't have a fear of death but the truth is I'm terrified of dying," he laughs. "That's the reason I'm so diligent and how I'm sitting here talking to you now."
The Incredible Mr Goodwin screens Tuesdays, 7.30pm, on TV One.