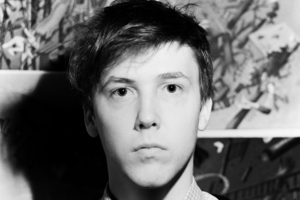 Being voted as the rising star in local music and winning a $10,000 NZ On Air grant at the 2013 Critics' Choice Showcase still hasn't quite sunk in for Daniel McBride.
"I'm still in a bit of a fuzzy kind of mode, but it's amazing, and it was a big surprise," says the 19-year-old multi-instrumentalist behind Sheep, Dog, and Wolf after this week's awards night.
While the prize was a surprise for McBride, it seems thoroughly deserved for a young man who has such passion and commitment to his music, and has come so far already.
He's been singing since he was 3, but his parents' love of jazz was also a key influence.
"My parents used to play me jazz classics like Miles Davis and Sonny Rollins to get me to sleep, and I picked out the saxophone in the recordings and decided that was what I wanted.
"... I think woodwind and brass instruments are kind of a window into the person who's playing them, because they're such a personal instrument, the way you're using your breath. I love how primal and emotionally connected it feels."
He started guitar at 9, saxophone at 11, but then picked up the drums at 15 and joined exuberant Auckland punk band Bandicoot.
They made quite a name for themselves, even opening the 2010 Big Day Out.
"Bandicoot was heaps of fun, but I didn't really have any creative control - when you're a punk drummer, you play punk beats, and there's not a whole lot to change.
"So when it came to an end, I was ready to work on some of my own stuff. I got some cheap gear together off Trade Me, and started a little bedroom studio."
He credits his Bandicoot experiences with teaching him how important a powerful live performance is.
"The influence of Bandicoot isn't very obvious in the recorded music, but playing punk shows and seeing how much people were enjoying themselves just because of the atmosphere really affected how I felt about live performance. That energy and power is so important."
So what is Sheep, Dog, and Wolf like? Well, McBride plays saxophone, bass, guitar, and sings, while using two loop pedal arrangements, accompanied by a drummer. But how to describe the sound of his recently released debut album Egospect is more puzzling.
The Guardian (which gave his first EP Ablutophobia a very favourable review) compared him to a young Sufjan Stevens, and names like Beirut, Grizzly Bear, Flying Lotus, and Why? pop up when McBride discusses his contemporary influences.
But mostly he's the sum of his experiences - seven years of saxophone lessons, a year studying composition at Victoria University, the punk band, wide musical tastes, and hours spent working up songs by himself in his bedroom.
"I guess because I wrote them in quite an introverted environment, the songs are very personal, and when I perform them, it brings things out, and they make me quite worked up. But it seems to make for quite a good performance."
The live line-up was restricted to a duo for the sake of economy on a recent European tour, and forced McBride to create the looping set-up, but he would rather have more freedom on stage.
"It can be a temperamental set-up, and quite nerve-racking," he says.
"And even when it's going well, if you get too sucked in to the looping, the audience might as well be watching a robot, so it can irk me. But hopefully I'll expand the band when I return to Wellington."
He clearly succeeded in impressing the judges, and audience on Wednesday evening, though, and you can expect that with the type of energy and enthusiasm McBride has for instruments, he'll always be challenging himself to further heights.