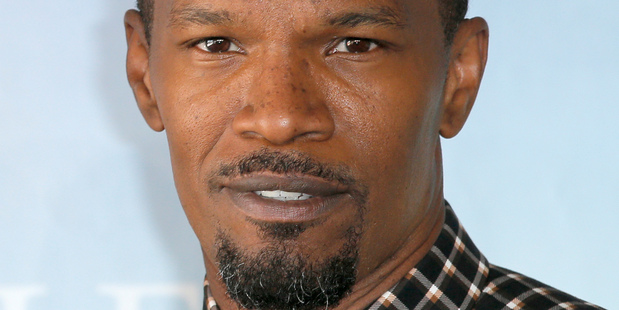 Crikey, the rumour mill has been busy.
The internet blew a fuse yesterday following fevered chatter that Katie Holmes has turned up the heat on her love life, and is supposedly involved in a romantic relationship with Jamie Foxx.
Numerous sources dished to In Touch magazine that Holmes, 34, and Foxx, 45, are stepping out together on the QT.
"Katie and Jamie have been dating for a while," a so-called source chimed to the magazine, adding that Foxx has secretly been spending time at Holmes' New York apartment. "They're very Mission: Impossible about their romance."
A second insider claimed that when a driver pulled up in front of his New York hotel in mid-September to take Foxx to the set of his new movie, Annie, they were slack-jawed when Holmes instead rocked up for the ride.
"A hotel employee confirmed that Katie had stayed at the hotel with Jamie and that she was taking his car," chimed the source. "So the driver drove her home to her Chelsea apartment."
But there's no new couple alert here, folks. Not according to Foxx, who has since spoken out to address the hook-up reports.
"[The rumours] are one hundred percent not true," Foxx tells Entertainment Tonight. "In fact, it's quite hilarious because we simply danced at a charity event along with a lot of other people."
The actor is referring to a rendezvous back in August when Holmes and Foxx were photographed dancing together at the 4th annual Apollo in the Hamptons benefit in East Hampton, New York.
Per a Us Weekly report, Holmes was snapped linking arms with Foxx as they hoofed it up to Robin Thicke's Blurred Lines and Daft Punk and Pharrell Williams' Get Lucky.
Although they were hardly grooving alone: Ellen DeGeneres, Anjelica Huston and Jon Bon Jovi were also said to be in attendance.
Regardless, Us Weekly continued to play matchmaker for Holmes.
"They [Foxx and Holmes] danced, and after a hug he grabbed her butt and tried to seal the deal," a beady-eyed observer at the bash dished to the magazine. "She was flattered, but not interested."
At the time, a rep for the actress said the romance rumours were "ridiculous," stressing that Holmes and Foxx have been "friends for a very long time."
Holmes split from ex-hubby Tom Cruise in June 2012. And the tabloids have had a field day pairing off the former Dawson's Creek star with a string of eligible bachelors every since.
In January, tongues were wagging that Holmes had fallen into the arms of Jake Gyllenhaal.
Grazia magazine reported that "friends allege the former Mrs Cruise has been slinking over to Jake's West Village apartment in New York for dinners."
Holmes' rep swiftly issued a nano-statement, saying the story had "not one ounce of truth," while team Gyllenhaal branded the yarn a "complete fabrication."
A few months later, Holmes was supposedly dating jazz musician Peter Cincotti.
And only yesterday, Grazia (via the Daily Mail) boomed that Holmes has her "sights set" on none other than George Clooney.
The mag claims the actress and the 52-year-old silver fox have purportedly "grown close" since his split from girlfriend Stacy Keibler.
A "source" said: "Katie and George have known each other for years. They met through her ex husband Tom Cruise, and have always got on. Katie has had a crush on him for ages.
"They're both single and have met up a couple of times since the dinner party. Katie really has her sights set on him. There is a genuine connection."
The source continued: "Katie and George are having a lot of fun. They are enjoying their new flirtation. He's a fun guy with buckets of charisma and Katie loves his company."
A source tells Gossip Cop that Gracia's report is "BS".
NOTABLE NUGGETS
And finally ...
* Mischa Barton opens up about her breakdown: "I was under enormous pressure".
* The team behind Rebecca Black's Friday is back, and this time they're hungry. Chinese Food by Alison Gold could be the most annoying song ever.
* Britney Spears hits the streets of London for bus tour.
* Lady Gaga calls her new album ARTPOP "the album of the millennium".
* U2 to release new album in early 2014.
* Kris Humphries auctions off Kim Kardashian's engagement ring.
* Superfans fork out to pose with Sylvester Stallone.
* Nah, Leonardo DiCaprio isn't dating Brazilian model Kat Torres.
* Is this why Charlie Hunnam left the Fifty Shades of Grey movie?
* Listen: It's tinsel time already for Kelly Clarkson.
* Watch: Robbie Williams debuts new Go Gentle video.
- Rumour Has It