Lizzy Caplan, graduate of Mean Girls and queen of cult comedies, tells Jeff Maysh the naked truth about her latest role as a pioneering sex therapist.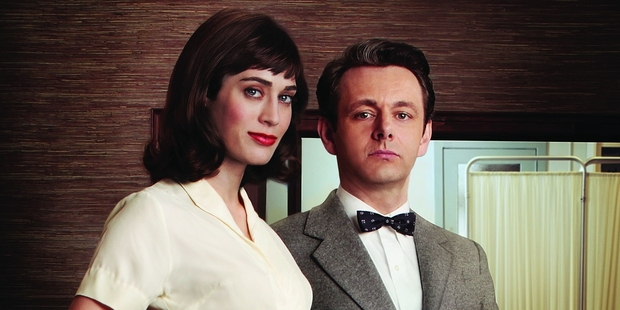 They say Lizzy Caplan is "adorkable". It's a curious portmanteau that describes a new breed of acerbic women who have a passion for desserts and sarcasm; a Venn diagram of kooky yet startlingly attractive brunettes that includes Zooey Deschanel and Katy Perry.
Actor Caplan, now 31, made her film debut as an ostracised high-school goth in the hit comedy Mean Girls, appearing as monster-bait in Cloverfield, and more recently as a swearing bridesmaid in Bachelorette. Fittingly, she has also starred in a number of short-lived but cultish American TV shows, including Freaks and Geeks and Party Down.
"I have a special ability to spot TV shows that don't go past two seasons - that's my gift," she cracks, removing dark sunglasses.
"No one seemed to care about Freaks and Party Down until after they were cancelled. I hope that luck doesn't continue."
Her new show, Masters of Sex, is a romp that she hopes will "run for years and years".
In it, Caplan and Michael Sheen portray the real-life pioneers of the science of human sexuality, Dr William Masters and Virginia Johnson, whose research sparked an American sexual revolution. This 1950s drama retells a love affair ignited during unusual tests at a midwestern teaching hospital in St Louis, and it plays like an after-dark, uncensored Mad Men.
"My dad hasn't seen it, nor do I think he will," says Caplan, wearily.
"I tried to get them to do a 'family edit', cutting out the stuff that my father wouldn't want to see, but they said it was too hard."
She cheerfully recounts a sex scene with Sheen, explaining how they were hooked up to a machine, totally naked. "He's a tender lover when he's got wires attached to his chest, but I can't speak for when he's truly unleashed," She chuckles. "You know, I've done sex scenes before. But never under fluorescent lighting, and all these electrodes? It makes you long for the days of low-lighting and a bed." Caplan's huge eyes peer out from behind an oversized menu. "Instead, I'll just tell my dad the episodes he can watch. I can even give him the time stamps of the stuff that's okay. We'll figure it out."
Caplan grew up in a Reform Jewish family in the Miracle Mile, a well-heeled district 6.5km south of our perch in the Sunset Tower Bar in Los Angeles. She studied at Alexander Hamilton High School's prestigious Academy of Music, before losing interest in the piano and pursuing drama.
Her name is still embroidered on a soccer championship banner that hangs in the gymnasium. College was too much of a "time suck", she says, but there were enough hi-jinks on the Toronto set of Mean Girls to rival any sophomore semester.
"Making it was ridiculous fun, all of us in a hotel. We were doing stuff that made each other laugh. I had no idea it would become an important cultural phenomenon. I saw Clueless five times in the theatre when I was growing up. Now I see new generations of kids are obsessed with Mean Girls. I love that."
Her next major screen role was in sci-fi flick Cloverfield, a film notable for its motion sickness-inducing cinematography. "The budget was $20-$25 million [$23.8-$29.8 million] and for a monster movie, that's nothing. What a cheap monster. Well, none of us got paid anything - it all went to that f****** monster!"
To give an impression of being filmed on handheld cameras, expensive cameras were bundled up and thrown down the stairs, she reveals, and in the film's tragic finale, Caplan's character perished along with the entire cast.
Next, Caplan guest-starred on the hit vampire show True Blood as Amy Burley, the drug-addled girlfriend of Sookie Stackhouse's brother, Jason. In her debut sex scene, she rode Stackhouse topless, creating a television moment that has been immortalised by eager young men in dozens of thumbnail-sized online animations. These fanboy vignettes have already sprung up presenting scenes from Masters of Sex and its piece de resistance, the machine that monitors patients' heart rates as they experiment with sex.
"Michael and I observed so many actors doing it before we had to do it ourselves," reveals Caplan.
"Our hats were off. You're surrounded by amazing crew and trained professionals, but you need to get past that discomfort. We couldn't even cover up between takes because of the f****** wires, and then you start to sweat and all the wires would fall off. You get used to enjoying small talk while completely naked."
Caplan, who has dated Friends star Matthew Perry since 2006, says a sibling-like relationship with Sheen helped defuse any awkward tension. Her eyes light up at the very thought of her workplace playmate.
"It really could have gone in a number of terrible directions, but we became very close, very quickly. He was intimidating at first, but now there's lots of picking on one another and we hold each other up. The schedule is brutal, so you spend a lot of time together. I like hanging out with Michael."
Sexologist Virginia Johnson wanted no part of the TV adaptation of her life, so Caplan says researching the role was incredibly difficult. "It was hugely disappointing, and I held out hope when the show premiered that she would come and hang out on set, but that's no longer an option."
Johnson died in July, before the show aired. "It's weird, I feel like I have this affinity with her, and when she passed away, it affected me pretty deeply. And I'd never met her."
Who: Lizzy Caplan
What: Masters of Sex
When and where SoHo, Wednesday 8:30PM
- The Independent