A Model Woman focuses on an unusual real-life couple, writes Dionne Christian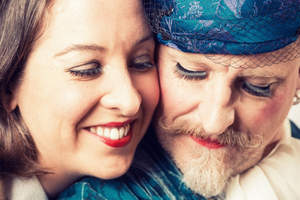 When Gerda Wegener's model failed to turn up to work at the Danish artist and illustrator's studio, the painter took drastic action to meet her deadline drawing for turn-of-the-19th century fashion magazines.
She asked her husband, fellow artist Einar Wegener, who she had met at the Royal Danish Academy of Fine Arts and married in 1904, if he would dress as a woman and pose for her. The fine-featured Einar happily obliged, but Gerda's request was to have life-changing implications for the duo.
It led, two decades later, to Einar having gender re-assignment surgery to become the embodiment of his female alter-ego, Lili.
Lili was an almond-eyed beauty who became Gerda's muse and turned the heads of all who saw her in paintings but caused a scandal in Denmark when her identity was revealed.
The unconventional couple moved to more open-minded Paris where Lili announced she could not go on living in a man's body and, with Gerda's help, sought a doctor willing to undertake the world's first sex change operation.
After 19 years, it meant divorcing Gerda, who remarried but later fell into a deep depression when she learned Lili had died shortly after a fourth operation - a uterus transplant - done in the hope Lili could bear children.
Gerda's and Lili's unusual, complicated romance is the sort of real-life tale that excites writers when they stumble upon stranger-than-fiction truths through which to question contemporary social realities. So it is for Phil Ormsby, one half of Flaxworks Theatre, whose latest play, A Model Woman, uses the Wegeners' story to ask about freedom, identity and choice. He describes it as a love story that transcends physical identity.
"My interest is not in the details of Lili's surgery. I was more interested in how she got to a point where she was willing to risk her life to achieve her true personal identity. I think a lot of the stories I write are about people struggling to find who they are."
Is he, then, a playwright in search of himself? Ormsby came to writing plays later in life after a career in telecommunications. In the last decade, Flaxworks, founded by Ormsby and Alex Ellis, has toured all four of its previous productions (Biscuit & Coffee, Murder by Chocolate, Carol & Nev and Drowning in Veronica Lake) throughout New Zealand with more than 250 performances in 80 venues nationwide.
He's pretty happy with his life, but reckons themes of personal identity and sacrifices in relationships are something most of us understand. With a story that has percolated for two years, the production features original music by Adrian Hollay, who worked earlier this year on Auckland Theatre Company's The Glass Menagerie making music by using glasses of water. It's an important means by which to reflect the contrasts of Europe in the 1920s.
A Model Woman focuses on Gerda's and Lili's relationship and how Gerda (played by Ellis; Simon Coleman stars as Einar and Lili) may have dealt with his transformation from a beautiful boy to a woman who wanted to marry and bear children. All involved with the play find this is one of its most intriguing aspects, hence its title.
"Gerda was a famous artist who was independent, liberal and embracing fully the sort of freedoms women experienced after World War I, but Lili wanted to be the exact antithesis of this," says Ellis. "She aspired to be the sort of woman that most men of the period expected women to be: feminine, demure, anxious to marry and have children."
A century on, Ellis and Ormsby see society still torn over the roles it wants women to play.
"Yes, we say, you can be elected to political office but we want you to dress nicely, wear makeup and look good," says Ormsby.
He approached writing the story carefully, with Coleman, Ellis and others offering input. They believe the stories they tell through Flaxworks are becoming more detailed with each new play, but felt an extra responsibility to ensure A Model Woman would provoke but not offend.
Just days before the play opens, news has broken of Belgium transsexual Nathan Verhelst who, born as Nancy, was so desperately unhappy after gender re-assignment surgery did not work as he'd hoped that he chose to end his life on the grounds of "unbearable psychological suffering". Euthanasia is legal in Belgium if certain conditions are met.
"I liked it as a story about the search for personal identity," says Ormsby. "What's the point of living your life if you're not thinking about who you are, where you're going and what the point of it all is and reflecting on those big existential questions?"


Performance
What: A Model Woman
Where and when: The Basement, October 22-November 2