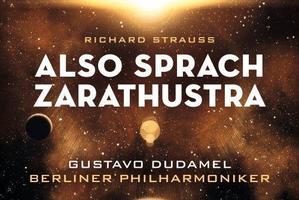 Those seeking Straussian rapture should search out Gustavo Dudamel's new recording of the composer's symphonic poems. How could this project miss, you might ask, with the Berlin Philharmonic recorded in the acoustic Parnassus of the city's Philharmonie Hall?
Within seconds in Also Sprach Zarathustra, goosebumps will prickle when brass and woodwind make the first surge of the sunrise fanfare. Soon after, violas lead clustering strings in the second theme, as tender and sweetly harmonised as one could ever wish for.
At 32, Dudamel is no longer a wunderkind - these days his calling card is more likely to be Mahler and Mozart than familiar south-of-the-border lollipops. On this CD, however, his irrepressible Latin energy has given a new vitality to scores that, to some, represent the bastion of conservative repertoire. Has the opening of Strauss' Don Juan ever sounded more virile and downright sexy? A striding tempo has something to do with it, but there is also a lusty spring to the rhythms and let's not overlook the sabre-edge articulation.
The third offering, Till Eulenspiegel's Merry Pranks, is a tongue-in-cheek morality tale about a rather wilful young man and Dudamel brings it off with just the right combination of braggadocio and oafishness.
The New Zealand Symphony Orchestra's latest Naxos release has Peter Breiner conducting suites that he has patched together from two Tchaikovsky operas, The Queen of Spades and Voyevoda.
The music is a few notches above the Hobbit tunes that these musicians have recently been working on, but this CD should be classified as "Marginalia: for Tchaikovsky completists only."
Starting with the first "aria" from The Queen of Spades, introduced with a few desultory "till-ready" chords, one so misses the vibrancy and character that this passionate outpouring would receive from a singer.
Breiner knows all the composer's tricks and has fun out-Tchaikovskying the master in the Romance from Act II of the opera.
Yet again, this is far more effective in its original dramatic context, sung with a simple piano accompaniment.
After the NZSO's fine Sibelius cycle with Pietari Inkinen, someone needs to be finding more worthy recording ventures.
Stars: 5/5
Strauss: Also Sprach Zarathustra (Deutsche Grammophon)
Stars: 3/5
Tchaikovsky: The Queen of Spades (Naxos)
Verdict: Richard Strauss glows under a Latin baton while Tchaikovsky wilts Downunder.