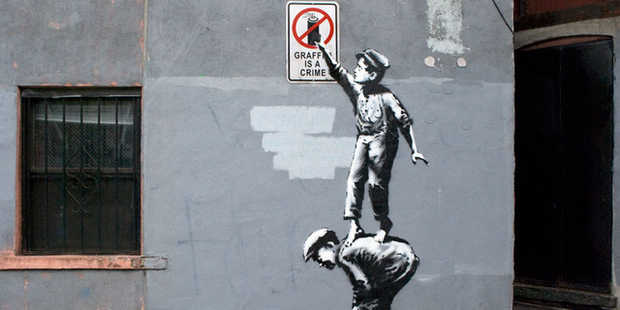 A new piece of street art by Banksy has appeared in New York City.
The painting, "The street is in play", shows two boys trying to grab a can of paint from a "graffiti is a crime" sign.
The new work is part of a month-long project by the elusive street artist in New York. The artist's website states: "For the next month Banksy will be attempting to host an entire show on the streets of New York."
The website also claims that people can access an audio guide of Banksy's attempted New York street exhibition via mobile phone to get more information about the graffiti works.
Banksy's latest graffiti appears in Manhattan's Chinatown at 18 Allen St, but the art work appears to have been painted over with a white roller just a day after it was installed.
In July, the removal of a Banksy graffiti from Tottenham - for its sale at auction - prompted an angry response from residents.
"No Ball Games" was cut from wall near Tottenham High Road by The Sincura Group, who also removed "Slave Labour" for auction in June.
Banksy rose to fame painting in Bristol in the 1990s before breaking onto the international scene in 2005.
He directed the 2010 film Exit Through the Gift Shop, in which he appeared as himself with his face and voice obscured.
His identity remains a closely guarded secret, but in 2008 The Mail on Sunday alleged that he was former public schoolboy Robin Gunningham.