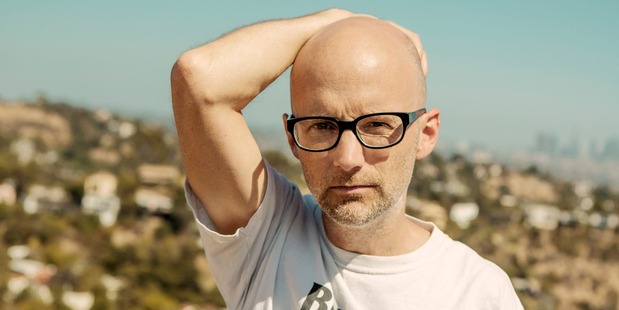 When Moby releases his 12th album Innocents in the US this week, he will perform just three shows and all within walking distance of his Los Angeles home.
It is a symbolic gesture that backs up what he told Rolling Stone earlier in the year: "This idea that every couple of years you do the same tour, same venues, stay in the same hotels ... it's really repetitive and there's nothing creative about it."
So Moby's days of incessant touring are over. But there is a silver lining - for Kiwis at least. If the maestro, once dubbed the King of Techno, ever does decide to take the new album on the road, he quite fancies the idea of touring New Zealand.
"I actually feel that there are a couple of good reasons why - first and foremost because I really love New Zealand, and I'm not just saying that because I'm talking to you, but because every time I'm in New Zealand I'm struck that it is the most remarkable, beautiful place on the planet," says Moby, whose real name is Richard Melville Hall.
"The other good reason, is that LA is one of the few places in the world that has a direct flight to New Zealand. I think it's actually closer to LA than LA is to London."
And it's not just our country Moby's raving about. There's a certain song by a certain Kiwi teen, making waves around the globe, that he can't get out of his head.
"I was driving to therapy, which is what self-involved Americans do," he chuckles, "And I was listening to KCRW and the morning DJ played Royals," he says referring to the first time he heard the Lorde hit. "It just stood out to me as this idiosyncratic, really surprisingly beautiful pop song that is equal parts conventional and unconventional.
Like, it has a very conventional structure but it somehow feels quite revolutionary. I heard it and immediately I couldn't get it out of my head. So I knew it was a really remarkable song."
He doesn't stop there: "And the fact that it is this wonderful cultural criticism at the same time. I was talking to someone about it and I said, 'If I had teenagers, I think I would force them to buy this record'."
It's high praise coming from an artist who led the dance music evolution of the 1990s with albums like Everything Is Wrong, Animal Rights and Play.
And even if the albums he's steadily continued to put out since then have failed to draw the same critical acclaim or commercial success, he's still considered one of the most progressive and innovative music-makers of our time.
Moby proves that on his latest work, Innocents, which harks back to his earlier lo-fi sound, and, for the first time ever, sees him bringing in help in the form of an outside producer, friend Spike Stent.
"In some ways, he's quite an odd choice because most of the records he's worked on recently have been huge pop records - No Doubt, U2 and Madonna. But in his youth he worked on a lot of strange records, like the early Massive Attack albums and an early Bjork album," he says.
"But I think the reason he wanted to work with me, was I wasn't looking to make a big polished, slick pop record. I wanted to make something that wasn't perfect and had a quality of vulnerability and fragility."
And together, that's exactly what Moby and Stent have pulled off. Innocents isn't an album made for radio play or for the charts. It's a beautifully ambient record made simply to be enjoyed. It ebbs and flows, with instrumental tracks like the warm and uplifting Everything That Rises and the mournful Going Wrong acting as the glue that holds together a host of stand-out collaborations, from A Case For Shame, with Cold Specks to The Perfect Life, featuring Wayne Coyne and The Last Day, with Skylar Grey.
It's already being touted as Moby's 'comeback' record. The truth is he never went away.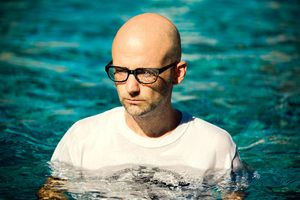 And anyway he doesn't care too much for hype. In fact, when put on the spot and asked how he feels about this new batch of songs, he struggles to find nice things to say.
"I was reading an interview with Woody Allen the other day and he was explaining why he never watches his own movies because apparently all he sees are the shortcomings.
Unfortunately that's often the case with the records I make. I listen to them and I think, 'Oh I should've mixed it differently or I should've edited it differently or the chorus should've been stronger'. It's very hard for me to hear what's good about my records. I am just confronted by the things in that hindsight I should've done better."
He's also acutely aware that he's now operating in a vastly different industry to that of his heyday.
"In ye olden days of the 90s, success was primarily based on record sales. Now that we live in this climate where very few people buy records, I think a lot of people are confused as to how you determine whether a record is successful. But to me, and maybe it sounds overly naive or simplistic, but the success of a record is based on how I feel about it - did I enjoy making it? And whether someone comes up and tells me that they like it. And if someone tells me that they like it, then I deem it a success."
So if he's struck by Innocents' shortcomings, does he then consider it a success?
Absolutely, he does.
"There's a lot of desperate pressure applied to the making of a lot of records these days.
But in this case, the only pressure we felt was to make something we liked. And if we got lucky, maybe we'd end up with something other people might like as well. We weren't trying to second guess a huge pop music market. We were trying to make something weird and that we felt was interesting.
"Plus, it would be kind of sad and absurd if I, as a 47-year-old bald guy on my 12th album, was trying to aggressively compete in the pop market," he laughs.
Moby's new album Innocents is out now.