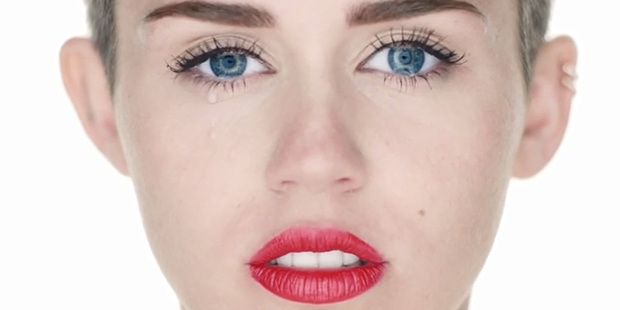 Miley Cyrus has revealed her tears in the video for Wrecking Ball were for her dead dog, not her shattered romance.
Fans felt sure miserable Miley was crying about her love split from fiance Liam Hemsworth in the promo, but she has now set the record straight, insisting she had a pet, not a lover, in her thoughts.
She tells Rolling Stone magazine, "That (crying) was real. My dog just passed away."
Miley's beloved Yorkshire terrier Lila, who she adopted in 2011, died in December.
She's also said that she wrote break-up song Drive on Valentine's Day as she struggled through a "hard time" in her own relationship with Hemsworth.
The couple had been dogged by rumours of an impending split for months before the singer/actress officially announced the end of the engagement last week.
The 20-year-old admits she spent the most romantic day of the year in the studio, writing a track which alludes to the romance troubles she faced.
She tells Canada's Fashion magazine, "I wrote it while I was working on Valentine's Day - emotionally it was such a hard time.
"It is about needing to leave someone but not really wanting to completely cut yourself off from the relationship.
"It's a time when you want to leave but you can't. It's also about moving on."
Drive features on Cyrus' upcoming album, Bangerz.
- WENN