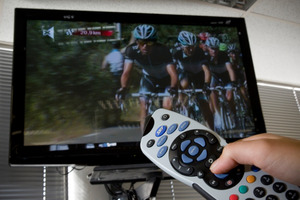 About 18,000 households in the lower North Island have yet to switch to digital TV with less than a week until the analogue signal is turned off, according to latest figures.
Information from Going Digital shows 18,110 homes in the area were still using the analogue signal in August.
They face the prospect of no television when the analogue signal is switched off in the lower North Island on Sunday.
Going Digital national manager Greg Harford said the number of households still using the analogue signal accounted for about 5 per cent of TV-watching homes in the area.
"The biggest barriers are really that it's not a priority for people right now. People want to wait until they have to.
According to Consumer New Zealand's guide to Going Digital, the cost of a standard set-top terrestrial box set would cost between $80 and $200.
A set-top satellite box set would cost between $80 and $180.
Freeview's Sam Irvine said most people who were yet to switch were probably leaving it until the last minute.
Research showed remaining households were "very similar across the demographics of age and also ethnicity."
A breakdown of the figures showed a third of the homes still using the analogue signal were located in the Greater Wellington region. About 14 per cent were in the Taranaki region, and just over 9 per cent were in Palmerston North.
Mr Irvine said households with more than one television needed to ensure all sets were using the digital signal.
"There's a much larger number of people [than those who haven't switched] who haven't done anything about their second, third of fourth sets of TVs."
- APNZ