American singer Marianne Faithfull's unhappy memories of sex in the 60s speak for many women.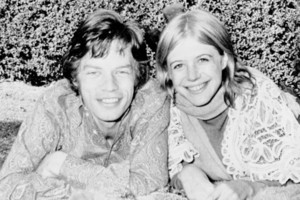 The young American had been staying on a mattress in the corner of my flat in Amsterdam while he looked for a place to live. I'd said he could do so, in the easygoing way we offered hospitality at the end of the 60s.
One night he made a pass at me. I remember, even now, the way he curled his upper lip into an intimidating sneer when I told him "no". And then he asked, with the utmost contempt: "So are you frigid?"
To my enduring shame I crumbled at this. The idea that I might be seen as a dismal throwback to a puritan era, when here I was in the age of the Pill was unbearable.
This may not seem to have much to do with Marianne Faithfull, the limpid-eyed, fragile beauty, with her pillowy pouting lips and her aura of rampant sexuality. The singer and actor had won the love of Mick Jagger and appeared to be the "have it all girl" at the epicentre of the Swinging 60s. Jagger had almost as many women lusting after him as we have cells in our bodies - so no wonder Faithfull was an object of prodigious female envy.
This myth, however, had an underbelly. Faithfull may have been the poster girl for unharnessed, carefree sex - forever recalled being discovered during a drugs raid at Keith Richards' house supposedly wearing nothing but a rabbit-fur rug and clutching a Mars bar - but her revelations this week tell an altogether less raunchy tale.
Far from exulting in love-making with King Mick, Faithfull, 66, says now - in an episode of the BBC series Who Do You Think You Are? to be shown next week - that she could not tolerate sex without the support of alcohol and drugs, and that it was not until she reached her 50s that she was able to enjoy love-making, conscious of what she was doing.
Faithfull attributes her "horror of men" to the fact that at the end of World War II both her Austrian mother, Eva von Sacher-Masoch, Baroness Erisso, and her grandmother were raped by Red Army soldiers during the liberation of Vienna.
She was aware, without comprehending at the time, the ferocious loathing of men that suffused her mother, while she saw her grandmother turn away from her grandfather, "who really adored her".
Analysing this now, Faithfull sees how, even as she loved Jagger, she could not separate that feeling from the fact that he was a man, and as such an object of abhorrence when it came to sex. She concludes, sadly: "I think my mother and her unconscious and unspoken loathing of men had a huge effect on me."
Imagine how it may have been for Faithfull, caught in an intimate bond with her mother, looking to her for reassurance that growing up is a safe thing to do, yet forever aware of her mother's raging distress and unable to soothe her. Isn't it logical that the male act that lies at the root of all this should crystallise into something that must be blotted into oblivion with drink and drugs?
It doesn't surprise me to learn that Faithfull carried this weight in her young years. It may be why I felt drawn to her in a way I never did to the other pop star wives and girlfriends. There has always been something almost pleadingly vulnerable in her face. She made me feel that we should care about her, that perhaps she couldn't care for herself well enough.
Yet there she was, a luminously beautiful fledgling kicking off adult life when everything was in flux, with flower power and women's lib making the weirdest bedfellows. Political protest and popular music coalesced in sexual yearning: make love, not war; don't trust anyone over 30; turn on, tune in, drop out were the slogans.
It was tricky for many of us to work out where we fitted into this new world, and never more so than when it came to sex, which seemed to be a leitmotif running through everything.
There was the fear of being seen as "square" if we didn't embrace every and any sexual opportunity, and of being labelled a "slag" if we did. I recall on my first day in a newspaper office being told that the newsdesk secretary was known as "the office bicycle" - no prizes for guessing why.
I determined I wasn't going to risk that and so I had a sex life as infertile as a desert. My nickname was "Miss Nonstarter".
Many of us did succumb to the unsubtle approaches of men who wanted us under the eiderdown (we didn't have duvets then). Or else our upbringing got in the way. The writer and agony aunt Virginia Ironside rolls her eyes when she recalls that "it seemed more polite to sleep with a man than to kick him out of your flat".
So sexual liberation there may have been, but whatever the zeitgeist, it didn't necessarily mean that young women like Faithfull just slotted effortlessly into things.
Whatever thrills Jagger got, they were the performance art of a woman under the influence. In 1970 she left him, even though she tells of how painful it was, how she still loved him and he her.
It became clear that she was driven by demons she could no longer tolerate, and it is well known that from this point Faithfull's life spiralled downwards into drug addiction, living on the streets, suicide attempts and the loss of custody of her son.
All of which is a salutary tale to tell at a time when the hopes of my generation - that feminism would give women a clear view of their worth, and ways to sift the kind of sexuality that is rewarding from that which is horrifying - are close to being dashed.
Instead, we have a climate in which young women are even more in thrall to sexual exploitation and manipulation than we were.
A vast industry promotes clothes to sexualise ever-younger women, encouraging them to wear makeup and stagger around on heels that make them seem drunk even when they are not; and with their addiction to social media, girls find themselves bullied into texting explicit sexual images of themselves for fear of being dropped.
Yet in Faithfull's tale we see that growing up can be the key to finding a way to live that does not require one to perform for others when it feels wrong. In her 50s, she says, she found that she had put sufficient life and learning between herself and her mother's influence that she could love and enjoy a physical relationship - without being under the influence of anything, except the pleasure of being who she was and where she was from choice. It is a state of mind that no woman should have to wait so long to discover.Telegraph Group Ltd