Counties stalwart as proud as the lads who'll line up at Pukekohe tomorrow to defend the Ranfurly Shield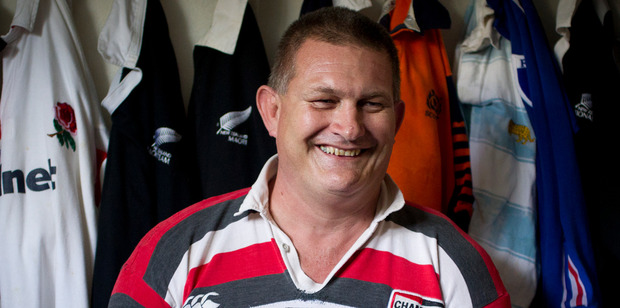 Warning - there is a bit of biff in this article. Oh, and some claret, not to mention a confession of sorts, all wrapped up in a story about an enormous trophy that is world famous in New Zealand, about a hard-grafting union that had to wait 56 years to lay its hands on it, and about a pillar of a bloke who is synonymous with the struggle.
"All so close. That's been Counties' story. It will end, one day," so wrote my sage colleague David Leggat, sticking his neck out in a column two years ago after another unsuccessful grab for The Log of Wood.
And now that bit of history is itself history, because come what may tomorrow when the men who represent the farmers and the steel workers and the Manukau city slickers take on Taranaki, Counties Manukau Rugby will forevermore have next to its name the legend, "Ranfurly Shield holder".
Listed in that bold article about so many empty-handed trudges home were many of the gifted, the famous and the bloody good who wore Counties' stripey jumper but never lifted the Shield.
There's Bruce Robertson, 100 matches for the All Blacks, Andy Dalton, captain of the national side, Joeli Vidiri and Jonah Lomu, wingers so good they inspired a song and rendered commentator Keith Quinn speechless.
There's the whitebaiter known as Beaver, who answered the call after injuries decimated the No 10 stocks, put down his net, donned an ill-fitting black jersey and saved his country from a French revolution with a World Cup-winning penalty. And then there's the backbone, forwards like Alan Dawson and lock Jim Coe, around whom teams are built, blokes Leggat described as "proud men of the province".
They don't come much prouder or more local than Coe. His home at Glenbrook Beach is on land farmed from the mid 1800s by his wife's family, and Coe's parents, Laurie and Rae, still farm over yonder in Karioitahi.
Turns out, I'd met his dad back in 1990 when I reported on a tornado that caused havoc along a 40km strip on the Awhitu Peninsula. Laurie Coe all 120kg of him was sucked from his quad bike by the twister and deposited only a little the worse for wear 100m from the wrecked machine. They breed them tough in Counties.
Man in tornado 'grabbed by giant hand', read the headline. "He's the tornado man, yep, that's Dad," exclaims Coe as I push the yellowing newsclipping across the dining table.
Ask what it means to Jim Coe for Counties Manukau to have at last won the shield and he leads us to a room that is chock-full with memorabilia, right down to the leather ball from his first rep game. Even the socks are accorded due respect - a pair, along with Counties shorts, are enshrined in a glass case. Among dozens of commemorative ties is one awarded for his 150th game for the province. Jerseys hang from a row of hooks.
"Scalps, I call them," says Coe. It seems to fit that a rifle is mounted on the wall above. "I was going to get them all mounted in cases but it was going to cost too much. So I thought, 'the rugby changing room'."
And there they are, waiting on pegs as though about to be pulled over brawny shoulders and carried once again on to the field of battle.
Coe does the roll call: France, Western Samoa, Scotland, Fiji, Argentina, England. Ah, England. "We [New Zealand Maori] played them at Rotorua and beat them 60-something points to 12". And there are his own jerseys, NZ Maori (his great great grandmother was full-blooded Te Arawa), NZ Divisional, Auckland Blues, and his beloved Counties.
All that's missing from a career spanning two decades is an All Black jersey (he played in four trials) and a Shield victory. He played in seven of the union's 24 unsuccessful challenges and experienced some near misses, often against teams bursting with All Blacks.
"So there's a few of us as we're getting older have been saying, 'are we ever going to see it, is it ever going to come to Counties?' It's one of those bucket-list items that we'd never ticked off.
"You see the pleasure and the reaction from the local supporters. It would have been nice to have done it but we still felt the pride as much as the players on the field last weekend did. Even Dawsey [201-game veteran Dawson, who watched the match at The Kentish Hotel in Waiuku] said it brought a tear to his eye and filled his beer up again." There were phone calls of congratulation for being part of what went before, media requesting comment. Though Coe insists full credit goes to Tana Umaga and his team, he's chuffed as.
"Here's my first Counties jersey," he says. 1986, Coe was 21.
"Still fit into it?" asks the photographer.
"Probably could squeeze into it."
And then there he is, 28 years after he first pulled it on and fitting it better than Stephen Donald did the All Black jumper in that Cup final. Coe is 1.98m - about the height of a standard door lintel and only "slightly over" his old 110kg playing weight. About the weight of a South African test prop, he quips. Put his fitness down to being the sort who is never idle. He's a metal worker, has got a qualification in metallurgy from AUT, and these days works in management for NZ Steel. Just down the road is the Glenbrook mill where he's spent much of his working life. Summer weekends are spent at his beloved Karioitahi Surf Club for which he's deep into fundraising to build a new $3 million surf club. There's an impressive model in the lounge of what he hopes will be built overlooking that black-sand beach.
Coe found his measure in teacher Judith, who stands 5'2" (1.57m) in bare feet and seems to be the hub of the busy family.
"We met at [Waiuku] college. She didn't like me as I was involved in sport and she hated sport. My sister and I would win everything. One fateful night the tide turned," he says, "and that was it."
Coe does a quick calculation (based, naturally, on recalling the year he made his debut for Counties) and comes up with 27 happy anniversaries of their wedding day. Their children are sporty too; daughter, Tara, is pursuing a career in sports management and their son, Aaron, a rising representative half-back is a chip off the old block. Half-backs are stereotypically the little - Coe jnr falls somewhere between his father and mother in size - lippy types.
Coe Snr preferred action to words. Cue confession. That English lock, says Coe, the one who later captained England to win the World Cup, Martin Johnson. In a passage in his book about his two years in the formative rough house of New Zealand rugby, Johnson described waking up in the changing rooms during a match against Counties. Something had happened but the Englishman knew not what. "He tried to give me a shunt so I smacked him," says Coe, who thereby claims credit for the future success of Johnson and England.
It was the times, he reckons, the school of hard knocks, of paying your dues, earning your stripes. Coe tells of an incident with legendary All Black enforcer Mark "Cowboy" Shaw when Coe, playing for the New Zealand Colts, was pitted against Manawatu, a first-division team of hard-bitten veterans. "The first ruck I went flying into I heard someone say, 'there he is Cowboy, that's the one who did it'." Shaw had been rucked, unintentionally. Blood streamed from a head cut and covered his face.
"Next maul, this hand came through and grabbed me by the throat and hauled me out. He looked at me, wagged a finger and said 'that's how easy it is, schoolboy'." Shaw later coached a team Coe played for and is, says Coe, "a real nice guy".
You didn't rely on the ref to solve your problems. A warning given by Coe's teammate Peter Fatialofa, a man who moved pianos on weekdays and scrums on weekends, to Richard Loe, a Canterbury and All Black hardman who was creating havoc in the lineouts, was sufficient. "Fats" informed Loe that the next time he touched his jumper he would "smash him".
There were three eras of rugby, says Coe. As an 18-year-old in senior club rugby you faced a wily old veteran forward who was in the team because of his experience. "You'd have a snotty-nosed young bloke turn up on the paddock and the first thing he'd do is grab him, give him a smack on the nose and teach him a lesson. You would get that every weekend in club rugby and if you couldn't handle it you wouldn't be there. So it built a mental and a bit of physical toughness. And if you were lucky enough to make the next step up to a representative team, you got it all over again."
You had to stand up for yourself. That moment for Coe came in a match against Wellington when an All Black forward was "climbing all over me". I said to Dawsey, 'sort him out', and Dawsey said, 'no, bugger off, sort him out yourself'." There was a punch. Situation resolved.
"As I got older," smiles Coe, "I became one of those wily, experienced representative and club players." In those days it was and it wasn't acceptable. Then came the era of citings. Coe recalls negotiations with the Counties union for it to pay the bill for players to go to Wellington for hearings. Coe said he was never cited but received his share of letters that said, "we have noted this indiscretion, please refrain in future".
The third era was professionalism and everything changed. "Rugby became a job that people did rather than a game that people enjoyed playing." Despite a list of injuries that fill a couple of pages, Coe loved it all, even the painful lessons.
It made him an effective de facto security officer at the surf club. There was the time he found people breaking into cars and "grabbed them" and the time he shielded someone who had been hit with a softball bat from those who had attacked him. "There was only one door and I just stood in the frame of the door and everyone who came to the doorway got a poke and ended up going backwards a few metres. It was just one after the other, it was relentless. Then the police came and sorted it all out."
Which, raises one perplexing question. What on Earth got into the their heads that they might get the better of Jim Coe, Counties' Man of Steel, son of Tornado Man, spirit of Shield Country?

• Michele Hewitson is on leave.