Janelle Monae's power-charged second album is more than just a continuation of a clever concept, writes Lydia Jenkin.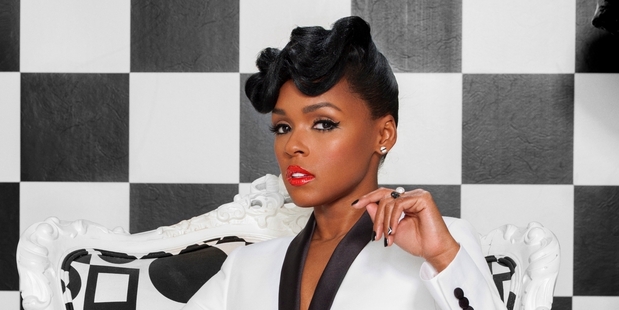 Janelle Monae wowed the music industry with her debut album The ArchAndroid. It wasn't just her striking style and bold approach, it was her creation of a whole world, or an "emotion-picture" as she calls it, a detailed story about her android alter-ego Cindy Mayweather, which allowed Monae to express a range of ideals about freedom, empowerment and emancipation.
For her much-anticipated follow-up, The Electric Lady, she has created a prequel for the story, asking questions like: before Cindy Mayweather became the ArchAndroid, why was she on the run? And why was she going to be disassembled?
"All the topics I wanted to write about were all the reasons why Cindy Mayweather was going to be disassembled - she had fallen in love with a human, and androids and humans are not supposed to be together, and then her thoughts on love, and sexuality, and religion, were all things that androids are not supposed to talk about."
But it wasn't a concept that came to her quickly - the story didn't come into focus until she started asking questions about some paintings she'd been creating while on tour.
"I was painting this same figure, this silhouette of a woman, every night, and I didn't know quite why. So I went home and I talked to my therapist, and she encouraged me to name the painting, name the series.
"I knew whoever it was in these paintings, she wasn't to be marginalised, or categorised. So I listened to my spirit and I listened to the energy that I felt when I looked at each painting, and it reminded me of electricity. The Electric Lady came to mind and I dreamed of a world where there were more electric ladies. A new breed, a new 21st-century woman."
The Kansas City native has a beautifully broad, honeyed, midwestern accent, one that at first might seem at odds with discussions about androids and electric ladies, but hearing about her upbringing, it's quickly apparent that Monae's mother and grandmother remain a key part of her inspiration.
"I was raised by very strong women. My grandmother, she served food in the county jail for 25 years. She owns four homes and she helped nurture the community. She went to church and people would come to her house, night after night, ex-convicts, ex-murderers, and she would help them and they just loved her. She was all about nurturing the community. And my mother, her last occupation, she was a janitor, and she worked day and night turning nothing into something. So those women really did help shape who I am, today, they helped me to be compassionate for humanity and to want to contribute in some way.
"I hope my music is uplifting and inspiring to people."
Although there are some strong feminist ideals running throughout The Electric Lady and Monae hopes it will empower women ("I want to create a million young and old electric ladies. I want them to find their inner power."), it's also an album designed to make people move.
"I want women to dance, I want everyone to dance."
She calls the genre, or the musical language that she was using, "ish".
"'Ish' is something that's undeniable. It's a jam, it's the soul of everything, it's something that will have you moving your feet.
"I dare you not to move to these songs."
The album is heavy on collaborations, too. Erykah Badu, Solange Knowles and Esperanza Spalding are among the sassy, independent women chosen to share songs with Monae, and Miguel and Prince help expand her horizons, too.
"I wanted to do Q.U.E.E.N. with Erykah because I feel like she has a great way of speaking to those who have been discriminated against or judged.
"And I wanted Esperanza Spalding to be a part of Dorothy Dandridge Eyes because it shows female admiration and I think females giving props to each other and telling each other, in a genuinely honest way, how much we admire each other is important.
"I wanted to do PrimeTime with Miguel because I feel he has a very unique way of speaking about love, and when I was ready to do a love song, I just felt it was important to call on somebody to help me.
"And I worked with Solange Knowles on Electric Lady because we have such a great time and this is a female empowerment song. It's encouraging women to do what they want to do, but be in control of their bodies.
"I don't believe in slut-shaming or saying that a woman should be restricted, and I think it's important to encourage all women to be free."
Of course, working with Prince, who's not just a musical hero for Monae, but also a mentor, on Giving 'Em What They Love, was thrilling.
"I don't wanna tell you too much about that song - you have to listen for yourself - but it's definitely a badass jam and it is a weapon.
"When you hear that song, you will definitely feel empowered to do anything."
Prince reached out to Monae after she released her Metropolis EP in 2007, excited to see a new artist so committed to creating an overall art-form, beyond the music, and one who was maintaining control with her own record label.
"He invited my band and me over to have a jam session with him and we stayed up until about seven in the morning, playing music all night and talking about the music industry, and about life. So he's been a mentor to me for quite some time and I went on tour with him, too. But him being part of the album is a whole new level of excitement, because he doesn't collaborate often, and having the opportunity to produce him was so humbling, so I'm really thankful and deeply honoured."
One can imagine that Prince is probably equally honoured to be working with such a visionary pop star, a woman who's managed to storm the charts and win awards, all the while wearing a tux and maintaining her distinctive independence.
Who: Janelle Monae
What: New album The Electric Lady, out tomorrow
Follow @nzherald_ent on Twitter for all the latest entertainment news.
- TimeOut