Katherine McRae finally gets to work with her mother Elizabeth on stage - and it's in a role well suited to both.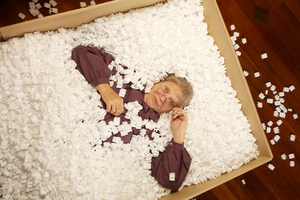 When Katherine McRae read the script for Gwen in Purgatory, she knew her mother would be ideal for the lead role - and given that Mum is veteran New Zealand actor Elizabeth McRae you can see her point.
"There aren't many wonderful roles for women of Mum's age [Elizabeth is 77] - I mean, if she was a man she would be getting offered parts like Lear - but here's a character who is quite feisty, who probably raised her family with an iron-hand and is keen to keep her independence. I thought it would be a fantastic role for her."
To which Elizabeth, best known as Shortland Street's receptionist-turned-politician Marjorie Brasch, nods her head in agreement: "Gwen is such a recognisable character. I read the script and thought, 'I know people like her', and it's such a wonderful mix of comedy and tragedy, of situations many people - particularly those in middle life - are all too familiar with."
Written by Australian playwright Tommy Murphy, Gwen in Purgatory was commissioned by Sydney's Belvoir Theatre.
It was originally intended to be a play about memory but the more he wrote, the more it morphed into a deeper, but blackly humorous, examination of family and its role in creating shared histories and identities.
Murphy, whose Holding the Man was staged by Silo Theatre in 2009, makes 90-year-old Gwen the central character in a story about a family struggling with the "what to do about Mum?" question. Deciding Gwen is too old to live alone in the family home, they move her into a new house, filled with labour-saving gadgets, the first to be built in a new suburban wilderness.
A Catholic, Gwen calls a priest in to bless the house which heralds the arrival of Nigerian minister Father Ezekiel (Tawanda Manyimo), who must deal not only with Gwen's belief that the new house is a form of purgatory, but also her domineering son (Bruce Phillips), put-upon daughter (Michele Hine) and wayward grandson (Ryan Richards). All the while, Father Ezekiel is feeling isolated from his own family.
"It's very clever to have a character who is an African priest because it allows all sorts of issues, like the way we look after our elders in Western culture, to be examined," says Elizabeth. "No one seems to be looking after Gwen because they're all caught up with their own lives."
Katherine, who has directed Shortland Street, Go Girls and Nothing Trivial, believes the audience will empathise with the characters.
"The characters are symbolic of the plights we face at various ages and stages and you can see the situation from everyone's point of view and sympathise with each of them to a degree," she says.
She and Elizabeth weren't daunted by the prospect of working together on a play with the potential to provoke their own thoughts and feelings about family.
"We have a very good relationship to build on so it would take much more than this to rock it," says Elizabeth.
"We approach the work as two professionals; I respect her as a director and she respects me as an actor."
Katherine says she has wanted to direct her mother for years and, thanks to friends who brought the script back after seeing Gwen in Purgatory, has found the right project. "It's a beautiful script which exposes the strength and vulnerability of family. It resonated with us both."
Theatre preview
What: Gwen in Purgatory
Where and when: Tapac, Western Springs, September 11-29