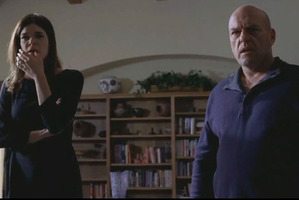 A mash-up video featuring two characters from Breaking Bad watching in disgust as Miley Cyrus twerks at the MTV Video Music Awards has gone viral.
Called Hank and Marie Watch The Video Music Awards, the YouTube video from Sam Barnett has had nearly two million views since it went live yesterday.
It takes footage from a pivotal scene in this week's episode of Breaking Bad in which the characters watch a taped "confession" from drug kingpin Walter White in horror.
But instead of featuring White, the YouTube video inserts highlights from Cyrus' sexually charged performance at the VMAs, in which she stripped to a nude bikini and writhed around singer Robin Thicke during his song Blurred Lines.
"This is the best thing ever! Can't stop watching it," wrote one YouTube user.
"You sir, have won the internet," wrote another.
* Watch the video here.