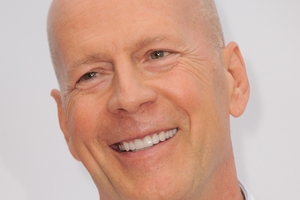 Bruce Willis might be one of the biggest action stars on the planet but fast cars or guns don't really interest him.
"All I'm really trying to be is entertaining, and the action sequences are just part of a certain kind of entertainment," says the 58-year-old. "And it's not my favourite kind of entertainment. I like to try and make people laugh more than I like to fight in films."
The irony of this statement is only exaggerated given that Willis is speaking in a vaguely bored, monotone voice. The fact he's talking at all marks progress, though.
Earlier, waiting for the interview to commence, it had been revealed there would be a further delay as Mr Willis had requested an ice-cream break. Gelato consumed, and access to enter his hotel suite granted, we press on with talking about his latest movie Red 2.
It's the sequel to the successful 2010 movie Red, in which Willis, John Malkovich and Dame Helen Mirren appeared as retired CIA agents who work together to uncover a high-tech assassin who's threatened the peaceful life of former black ops agent Frank Moses (Willis).
This time, the team assemble to track down a missing lethal device that could change the balance of world power - but at the movie's core is Frank's relationship with Sarah (Mary-Louise Parker), whom he met in the first movie.
Frank, unequipped to handle a basic relationship and keen to look after his "fragile china doll", wants to live a content and quiet life, while Sarah's concerned things are getting a little stale and is keen to get in on any action.
Would Willis agree they're stuck in a rut? There's a very long pause, while he muses over the question.
"I like the idea of being awkward about romance," he says slowly. "Because I think in real life I do an OK job at being romantic. But I also enjoy the character in this film, especially as Red 2 was written in that direction."
The movie takes in Paris, London and Tokyo, but Willis was more concerned that the script hit the right tone.
"When we did the first film, it was very ambitious and it's not often they (the money men) try to make something that has action, romance and comedy all in the same film," he says.
Despite the 18-month gap between movies, when the actors reunited "it was as if we'd just seen each other the day before", says Willis. "Everyone was already in character and showed up ready to play."
"I like to work in ensemble casts and I like to work with this group of actors especially," says Willis. "All we do all day long is try and make each other laugh, and hopefully that gets on to the screen and you'll find some of it funny too."
Willis picked up an interest in drama at senior school and honed his craft in several plays before landing the lead in an off-Broadway production of Fool For Love in 1984.
"If you talk about difficult acting, it's theatre," he says. "There's no second take and it creates much more fear than making films."
Willis is famous for his roles in action movies such as Die Hard - a genre that requires an actor to keep himself in good nick.
"Vanity plays a big part in staying in shape," he says. "I have to think about the food I eat and picking up weights."
His movies have grossed in excess of US$1 billion ($1.28 billion) at the box office.
"I try not to take it very seriously. It's a difficult thing if you take yourself or what you do seriously," he says.
Tricky as Willis is, things could have been worse if his wife of four years, Emma Heming, and their 16-month-old daughter, Mabel, weren't close by.
"I'm fortunate that I get to bring my family with me when I travel," says the actor. "It would be impossible, unbearable for anyone I was working with, if I didn't have them with me, because I'd be moaning about it."
And then, just as a softer side is peeping through that tough veneer, it's time to wrap up.
Willis, it seems, will remain an enigma for now.
Movie profile
Who: Bruce Willis
What: Red 2
When: Opens at cinemas on Thursday.
- AAP