As he lines up for a New Zealand visit this summer, Bruce Springsteen talks to Sean Sennett about fronting what many consider the world's greatest rock show.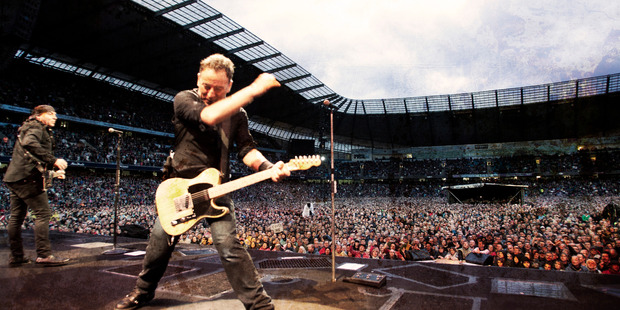 It's getting late in Kilkenny and Bruce Springsteen is coming towards the end of his three-hour-plus set. This is the final European date of his Wrecking Ball tour - a jaunt that started in March last year but is now doing victory laps around the world. It's booked up until March 2014 when he comes to Auckland for only the second time in his long career.
Tonight, in the historic town in southeastern Ireland, he's got enough petrol in the tank for one more song. Before he strums an acoustic This Hard Land, he pauses to let the audience know how he feels.
"The older you get, the more it means," he says. "I've been doing this, next July, for 50 years. I feel like I just started ... I've got another 50 in me."
Now, out of the blue, and, after an 11-year gap, Bruce Springsteen and the E Street Band are returning to New Zealand. Should we be excited? Absolutely. Just this month Rolling Stone named Springsteen, at 63, as the best live act on the planet.
"I'm out there just trying to see what catches fire. I'm trying to set myself on fire while I'm at it," he told me once.
The setlists behind the high-octane shows of the past 18 months have run the gamut of Springsteen's career. The material goes back to his 1973 debut, Greetings From Asbury Park, through to his latest album, 2012's Wrecking Ball. As has long been the tradition, no single show is the same. As he says over so many nights on tour, Springsteen wants his audience to exit the arena with "your back hurting, your voice sore, and your sexual organs stimulated".
"Part of who we are is, we're a show band," Springsteen explains about his E Street Band, who are now joined on stage by a small army of brass players and additional singers. "We come out to put on a show. There's a noble line of show bands before us: James Brown, Sam and Dave ... Prince has a great show band. So, that's our tradition. Our band is a rock and soul band. So that tradition of showmanship and professionalism is something that I've always admired and I've always adapted to what we do."
"We have a 16 or 17-piece band that turns on a dime. It plays like a three-piece band."
Springsteen has had a long career fusing his chief early influences - Elvis and Dylan - and coming up with something unique. Soul music, rhythm and blues and early rock'n roll are part of Springsteen's bedrock. As a writer, with a gift for detailed portraiture, he's arguably an American great. As a performer, there's no other artist in the world like him.
"That's 50 years of not just doing it but studying it and watching," he explains of his process. "I still watch everything that comes along. It's an endless work in progress."
During a mid-afternoon sound check Springsteen arrives on stage busting slow motion dance moves that wouldn't be out of place on Soul Train. His laugh is infectious and it fills the empty arena. It's here Springsteen further fine tunes an arrangement or two.
Back in his dressing room with his notebooks, laptop and lozenges pre-show, Springsteen handwrites a list of songs to be performed that night, which is essentially a guide for how the concert will play out. The E Street Band call the missing links "audibles", which means Springsteen will pull a song out of thin air - he may spot a sign requesting a tune that's held up by a member of the audience and launch into that.
"What people are paying for is the intensity of your presence," Springsteen explains. "They want to hear their favourite songs and all that stuff, but I always believe what they really respond to is the intensity of your presence on any given night. If the set becomes too rote you can sort of rest on its laurels [or] you can rest on its form and its formula. I don't want the band to be resting on any particular formula. We have a general blueprint. Some songs appear in the beginning, some songs appear towards the end. I may switch that completely. Sometimes you just turn it all completely on its head and suddenly everything is new again and the band and myself are pushed into the moment, which is where you want to be and what people are coming to see."
"I could have a setlist, but I don't know what the night is going to bring. You have your songs. You have your audience, but that's just one and one making two. That's not magic. Rock 'n' roll, art and love is when one and one makes three. So we come out at night for one and one to make three. Nobody knows what that third element is going to be, but it's the one that matters the most.
"It's like improv," adds guitarist Nils Lofgren. "It's the reckless joy of being able to fly seat-of-your-pants. There's a spur-of-the-moment that's inspired by the audience, and their energy. Bruce doesn't follow the set. We all know that. Near the end of the last tour, I think we did 192 different songs."
Like the Rolling Stones, the E Street Band are a magnificent unit of gifted individuals. Max Weinberg is a powerhouse on the drums. Roy Bittan is virtuosic on piano. Lofgren, in Springsteen's words, "is the greatest, most overqualified" second guitarist in the world and there's the rock solid Gary W. Tallent on bass.
Springsteen's wife, Patti Scialfa, plays when family life permits and sometime actor Steve Van Zandt remains Bruce's best pal.
Sadly missing are organist Dan Federici who died from melanoma in 2008 and saxophonist, Clarence Clemons who passed away in 2011. Clarence's nephew, Jake Clemons, plays with the ensemble while taking his uncle's signature parts in such live staples as Badlands, Jungleland and Thunder Road.
"[Rock 'n' roll] is a fortunate profession in that I have a lot of athlete friends who are 30, and they're finished," considers Springsteen. "When I started out everybody thought, there's nobody going to be playing at 35, or 30. You're finished by then. A normal career was a couple of years. But that changed. The nature of the music changed. Peoples' need for the music changed.
"The role music played in society became revolutionary ... so it was an enormously fortunate time for me to begin my working life. And, to live it out, through these past years it's been a real gift. And now, I can come out and I play the way I played when I was 35. I don't feel any different ... some days, maybe, but not tonight."
Who: Bruce Springsteen and the E Street Band
When and where: Mt Smart Stadium, Saturday March 1
Tickets: On sale from Monday August 26
Follow @nzherald_ent on Twitter for all the latest entertainment news.
- TimeOut