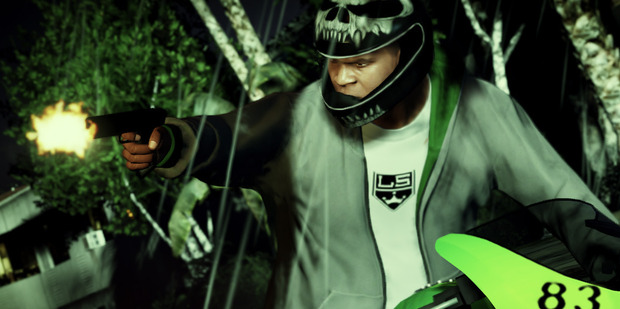 Rockstar Games have today unveiled the official gameplay video for Grand Theft Auto Online.
The trailer shows how they've taken the fundamental GTA concepts of freedom, ambient activity and mission-based gameplay and made them available to multiple players in an incredibly detailed and responsive online world.
In Grand Theft Auto Online, you'll have the freedom to explore alone or with friends, work cooperatively to complete missions, band together to participate in activities and ambient events, or compete in traditional game modes with the entire community, all with the personality and refined mechanics of Grand Theft Auto V.
Further details released include that there'll also be a spectator mode, and that Online will initially cover the same terrain as is included in GTA V. Rockstar hinted that this will be expanded however, "Grand Theft Auto Online... begins by sharing gameplay features, geography and mechanics with Grand Theft Auto V, but will continue to expand and evolve after its launch.." Mission creator tools will also be available, but not until some time after launch.
Rockstar North President Leslie Benzies has clarified that Grand Theft Auto Online is "not part of GTA 5. Obviously it's set in the GTA 5 engine, but it's going to grow and evolve into its own thing,"
Access to Grand Theft Auto Online is free with every retail copy of Grand Theft Auto V and launches on October 1st.
Click here to view the trailer (warning: explicit content).