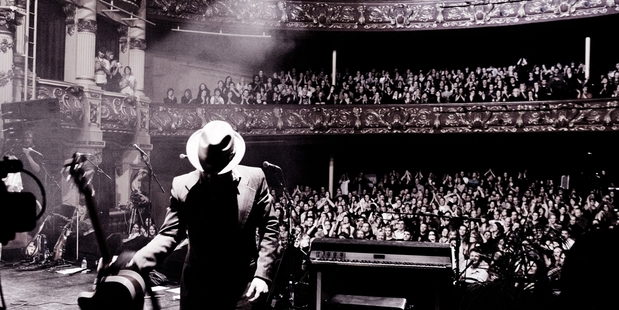 Herald entertainment writer Scott Kara says the city needs a live venue of the size and class of the St James.
"The St James is the place I saw the mighty Slayer rip sh** in 2007 - and it remains one of my top five gigs ever. Yes, mostly it was because of the songs, but hearing and seeing the band in that grand and majestic setting was an awe-inspiring - and beautifully brutal - experience."
The desirability of the St James for music and live shows is affirmed by Solid Entertainment owner Rob Jefferson and Michael Tucker, co-founder and director of Fly My Pretties and owner of Loop recording and events.
Tina Plunkett, 37, who is managing Save The St James' social media campaign (facebook.com/SavethestJames) said the council must buy the St James.
"I was disappointed that logic did not prevail with a national convention centre including the Aotea Centre for convention space, a rail link stop and the home of arts in Auckland moved to a restored and functioning St James.
"I will continue to spotlight this issue until not only is it bought and saved but also opened (not just mothballed).
"From a bird's eye perspective of this area I think it is imperative it is opened.
"Auckland Art Gallery, Auckland Public Library, Comedy Club, Basement, Q Theatre, Auckland Town Hall, Aotea Centre and the Civic Theatre ... and smack in the middle of it is this jewel, deteriorating before our eyes.
"There is plenty of growth and room for multiple performance and theatre space in central Auckland meeting a huge variety of need whether it be theatre, dance modern, classic, film, music performance or meetings.
"I cannot wait for this whole area to be opened up day and night and thriving."
Veteran Auckland promoter Manolo Echave said: "The St James certainly offered a usable, multi-purpose option in the Auckland venue landscape.
"It was both a large club and sizeable theatre with a unique ambience that could not be matched by any other Auckland venue.
"The charm and splendour of the original building was still apparent to its dying day.
"It still has the potential to sit competitively as an Auckland venue and should be refurbished to a level that the city could be proud of."
Michael Tucker wants to see the St James restored to the glory of the Civic as a long-term aim but to have it done in stages - "strengthen it and get it open for business, get a good plan to improve it over the years".