Special forces training paid off for Manu Bennett, writes Nick Grant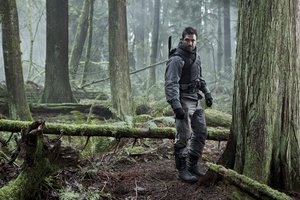 When Manu Bennett accidentally choked the casting assistant into unconsciousness during his audition for hit superhero series Arrow, he thought he was going to get escorted out by police. Instead he was offered the key role of Slade Wilson, an Australian Intelligence officer who helps mould billionaire brat Oliver Queen into the eponymous vigilante.
Bennett was about to fly back to Wellington for the premiere of The Hobbit: An Unexpected Journey (in which he plays villainous goblin Azog) when he got the call about the audition.
Arriving at the studio, Bennett discovered the scene he had to read was Slade's first appearance in the series, where he gets Oliver in a chokehold, puts a blade to his throat and whispers, "You have 10 seconds to tell me something I believe before I cut out your voice-box."
As luck would have it, Bennett had just returned from a trip Kuwait, where he'd been entertaining US troops with the USO and had been shown a series of chokeholds by a Special Forces member.
"So after having had a quick look at the script, I said, 'Can I have the guy reading Oliver's lines in front of the camera and put him in this hold?' And I got the guy into the position I'd been taught, and was halfway through the dialogue when he collapsed. After I'd apologised to him and he'd left the room to recover, the producers said, 'That was perfect, that was Slade Wilson!' And I just went, 'Ah ... ooookay,"' Bennett recalls with a rumbling laugh.
Although it got him the part, Bennett says the incident "did give me flashbacks to what Rob Tapert said to me when he offered me the role of Crixus in Spartacus".
The American producer responsible for bringing numerous US productions to film in New Zealand, Tapert cast Bennett in "the three projects of any consequence in terms of moving my career forward": Xena, 30 Days of Night, and Spartacus.
"I was between jobs and sitting in a Sydney bird aviary with my daughter in a pram going, 'How am I going to be an effective father with this career', when Rob rang," says Bennett, before slipping into a spot-on impression of the producer (and husband of Lucy Lawless): "'I just wanna tell you, ah, we all really like your audition for Crixus so, ah, I really want to offer you the role, but I need for you to promise me you're not going to hurt the actor playing Spartacus, because I know you get really impassioned in your fight scenes."'
There's another deep laugh before Bennett explains the cause of Tapert's caution: "There was this time on Xena when a stunt guy and I had a fight scene with these big rubber swords. I said, 'Let's just hit each other,' and he said, 'okay,' so we were just whacking each other until some safety officer stopped us..."
The Rotorua-born, Aussie-raised, Te Autu-educated actor is in an expansive mood during the interview, enjoying the view from his 32nd floor apartment of "the wonderful river system" of Vancouver, where he's just wrapped episode two of Arrow's second season.
Just as he dominates the screen, Bennett cheerfully takes command of the conversation to the point where it's really more of an anecdote-filled monologue. And when the PR guy cuts into the call for a second time to pleadingly request we "finish up real quick because we are now running a little over", Bennett's having none of it - he's got one more story to share, schedule be damned.
After the original Spartacus, Andy Whitfield, sadly died of non-Hodgkin lymphoma, the role had t be recast. One of those who auditioned, Bennett reveals, was Canadian actor Stephen Amell, now the star of Arrow.
"I met him when he came down to New Zealand to try out for Spartacus and in hindsight I realise he wasn't meant to play that part, he was meant to play Arrow. He's just fantastic in the job, the most wonderful guy and a great actor to be working with. And I love that I got to meet him on my home turf before I came to his turf."
Arrow screens Thursdays, 8.30pm, on TV2.