Dominic Corry takes in some highlights from the film festival.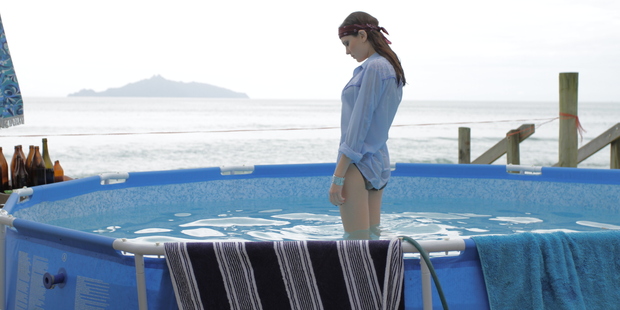 My ongoing film festival experience took me to the Kiwi musical Romeo and Juliet: A Love Song on Friday night.
The film came together in a unique manner - Producers Michael O'Neill and Peter van de Fluit wrote and recorded a musical interpretation of the bard's tragic romance then charged local director Tim Van Dammen with constructing a film to go with the songs.
So the vast majority of the actors are actually lip-syncing to vocals they themselves didn't record. Hey, it worked for West Side Story (in which neither of the lead actors sang their own parts), so why not here?
I went into Romeo and Juliet: A Love Song resolving to keep an open mind.
But no generosity was needed to embrace this unique film, which displays an emotionally-assured grasp of what makes this famous story so enduring.
The big moments all feel huge, and the mostly unknown actors hold their end up impressively. The campervan park setting somehow feels appropriate and contributes greatly to the film's confidently-mounted singular aesthetic.
The first song we hear is a rap, which is perhaps a little jarring, but it doesn't take long for the drive of the story to take hold.
Despite its low-budget origins, the film is way less grimy than I anticipated. Most of the songs lean in a cheesy direction, but hey, that's musicals. With its attractive leads and youthful spirit, it's not hard to imagine the High School Musical/Glee crowd embracing this film, if they were given a chance to.
Romeo and Juliet: A Love Song is playing once more in Auckland, at 1.00pm THIS AFTERNOON at the Civic.
On Saturday I went to Carlos Reygadas' Post Tenebras Lux, undoubtedly the most film festival-ish movie I've seen this year.
There's a thread involving a young family running through the dreamlike collection of scenes, but overall this felt like an aesthetic tasting tray. Most of it kept my attention, but some moments play out with excruciating austerity.
There is no doubting Regadas' artistic intentions though, and his talent for creating almost hypnotic beauty out of every day mundanity is in full effect.
Post Tenebras Lux is screening twice more, once on Friday and once on Sunday.
The six short films screening at the New Zealand's Best 2013 session displayed a typically strong collection of local talent. Most of the films had quite heavy subject matter, but the two that stood out for me - Oscar Kightley's Tom's Dairy and Lauren Jackson's I'm Going To Mum's - showed how such themes can be all the more effective when presented within a lighter emotional prism.
Kightley's film especially spoke to me - I get excited whenever a local film decides to involve the local corner store - is there a more universal Kiwi experience than going to the dairy? Kightley's talented young cast and convincingly-mounted early '80s setting make the film a pleasure from start to finish.
The most interesting thing about first-person slasher Maniac is the attention it has received for being rejected for general release by the New Zealand censors.
Technically speaking, there's nothing more gruesome shown here than in any number of modern horror films, but it's the immersive first-person style of the film that really freaked out the censors.
The shooting gimmick piqued my interest and the film occasionally demonstrates what kind of fun can be had with such a narrative style. But it mainly resulted in my pondering how little time "lead" Elijah Wood (who is only seen in reflections and the occasional "third person" shot) had to spend on set.
Maniac isn't a bad horror, but the crowd responded much more vocally to the steller Kiwi short that preceded it, Joe Lonie's cheeky, hilarious (and award-winning) Honk If You're Horny.
Maniac is screening once more - this Thursday.
Documentary The Human Scale is a very relatable and watchable film that looks at how the urban design theories of Danish architect Jan Gehl are becoming increasingly influential around the world.
His principal notion is that we need to stop designing cities and CBDs around cars, and start structuring them around their principal inhabitant - the person.
Told in five parts, the final section of the truly international film focuses on Christchurch's post-earthquake plans to rebuild the CBD, which involved input from Gehl associates.
The Human Scale does a fascinating job of showing how the macro informs the micro, and caused me to think about my daily existence in a much more scientific manner. It's also refreshing to see a science-based film that is telling an essentially positive story. I would strongly urge you to see it, but both remaining sessions are sold out.
Previously best known for his collaborations with better-known directors, filmmaker Noah Baumbach broke out with 2005's The Squid and the Whale. His subsequent films (Margot and the Wedding and Greenberg) were also great, and he presents his sunniest work yet with Frances Ha, a winning character piece he co-wrote with the film's lead, Greta Gerwig (Damsels In Distress; Arthur), the current queen of indie cinema who also happens to be Baumbach's current squeeze.
She plays the title character, a late-twenties would-be modern dancer who ambles through life making and losing friends while attempting to cope with her lack of forward vocational movement. Gerwig's gift for playing spirited characters with a grounded demeanour finds the perfect home in this gently funny, well-observed film.
Its breezy, black and white look can't help but recall Woody Allen's Manhattan, and the New Wave works of Jean-Luc Goddard are also evoked. The local's view of New York that Baumbach utilised so well in The Squid and the Whale comes through in a different, but equally effective form in Frances Ha.
But it's all really down to Gerwig, who despite her glamorous appearance, manages to make Frances feel like someone who stepped out of real life and into a movie. Viewers with a particular aversion to twee hipsterism may be put off, but this film totally won me over.
Fans of Baumbach, Gerwig or indie cinema in general should definitely see Frances Ha, which screens once more at the festival, this Sunday.
If there's one director I've talked about more than any other in this space, it is Ben Wheatley, the genius behind Kill List and last year's festival favourite, Sightseers.
All of Wheatley's films initially appear to be a departure from the previous film, but common threads always emerge. That said, Wheatley's latest effort is definitely his weirdest yet.
A Field In England tells the bizarre and often confusing tale of a quartet of deserters in the English Civil War who find themselves teaming up with a strange man to find some gold buried in a field. That they find themselves doing this after possibly ingesting some hallucinogenics is key.
I often enjoy movies that trade in tonal and plot ambiguities (like Upstream Colour for example) and Wheatley's films have all benefitted from such an approach. But while I feel I got the general gist of A Field In England, a lot of it was admittedly befuddling, and not always pleasurably so.
There's no denying the artfulness of the film though - Wheatley exploits the lush black and white photography to consistently beautiful effect.
Fans of The League of Gentlemen (the show, not the comic book/movie) will delight in seeing Reece Shearsmith getting to sink his teeth into a meaty (albeit bizarro) leading role, and Wheatley recurring player Michael Smiley is superlatively sinister as the dark alchemist behind it all.
I'm still processing A Field In England as I write this. I think I liked it. I definitely admired its one-of-a-kind flavour. I just think a little more to grasp on to would've been nice. But then again, maybe that sense of hopelessness was central to Wheatley's point.
There are two more screenings of A Field In England, tonight (Tuesday) and tomorrow afternoon.
What have you seen so far? Any of these? Comment Below!