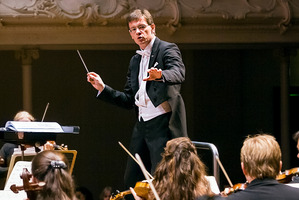 The popular misconception has always been that Schoenberg's music is box office poison. On Thursday, Auckland Philharmonia Orchestra refuted such a calumny forever, attracting a good-sized audience for a concert in which Schoenberg's Pelleas und Melisande was the major offering of the evening.
The APO's 2013 Splendour series has been the boldest yet, placing the music of three decades from the last century into historical context.
In May, we visited the 1940s; on Thursday, the 1900s were represented by three works premiered in 1905, complemented by a programme essay of curatorial depth by Alastair McKean.
Eckehard Stier took to Debussy's La Mer with the passion and energy we have come to expect. While there was not always Mediterranean warmth coming from the stage, thanks to string intonation, the vitality and sheer sweep of the orchestral playing was admirable.
Later, Stier's forceful conception, working with supportive musicians, made it clear just how musically adventurous that final dialogue of wind and waves was.
Glazunov's Violin Concerto came across as a somewhat wilted flower between two mighty oaks.
Three years ago, with the same orchestra, Feng Ning made this music seem 10m high, effortlessly transferring its salon-scale beauties into the Town Hall.
But this time, the work needed more charisma than Linus Roth gave it. The German violinist saturated his lines with portamento, yet missed out on its elusively mercurial emotions; his tone was wan when it should have been warm and wistful.
After interval, Stier introduced Pelleas und Melisande.
So well did Stier balance overall drama with the smallest details, at times it seemed that every player had the responsibilities of a soloist and fulfilled them magnificently.
The first pages, scored low and dense, took time to engage but once violins gave us the hero's soaring theme, there was no denying the unique power of Schoenberg's vision.