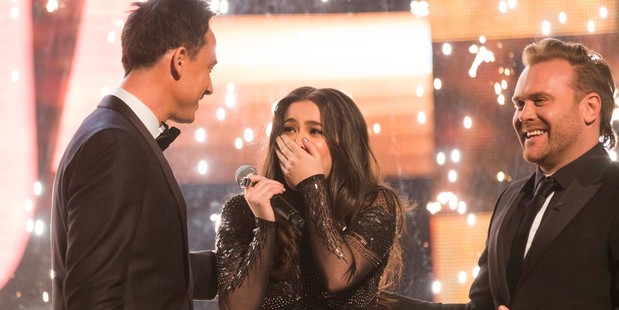 New X Factor winner Jackie Thomas can't believe her success, with her new single already the most downloaded in the country.
But her win has been marred by what appeared to be a voting glitch, resulting in some viewers receiving messages indicating their votes were not counted - despite being sent in on time.
MediaWorks however has jumped to defend the TV3 show and Thomas, saying those votes were counted and that she was the clear winner over runner-up Whenua Patuwai. Benny Tipene was voted third place.
"Due to an unprecedented volume of votes during [Monday] night's grand final decider, some text voters received an automated message saying that voting was closed," MediaWorks said in a statement.
"We can assure the people who got the message that their votes did go through and were included in those that were monitored on the night."
* Get your questions ready and join us at midday for an hour-long live chat with The X Factor winner Jackie Thomas.
Fans took to social networking sites Twitter and Facebook to complain. Many called on X Factor producers to refund their money.
Brie Hale tweeted she had voted 20 minutes before the cut-off and got a text saying voting lines had closed.
Andrew Anisi posted a screen-shot of the text message he had received, indicating that his vote had not been counted.
"What the? My vote don't count but still cost me a dollar?"
A spokeswoman for MediaWorks said an independent audit had begun and as part of the verification process, all votes were checked and re-counted. Figures would not be released until the audit was completed.
"We can say without a doubt that Jackie Thomas is the winner of The X Factor NZ.
"Verification to this point confirms she was ahead both when voting paused and still further ahead when voting finally closed."
Thomas was yesterday basking in her success, with her single - It's Worth It - reaching the No1 spot on the NZ iTunes chart within hours of it being made available on Monday night.
The 22-year-old, originally from Greymouth, was busy with several media interviews and television appearances lined up this week.
"It's been a really crazy day and I think I'm just starting to come down from the buzz a little bit," she told the Herald.
Hearing that her single was already No. 1 was mind-boggling, she said.
"It's so awesome. I love that people love the song because I like it and I put a lot of work into it."
The win was the result of hard work after being booted out during the elimination round, but then brought back into the show by judge Daniel Bedingfield.
"I think I worked hard right up to the final scene," she said.
Thomas was an early favourite after her audition, during which judge Melanie Blatt picked her out as her favourite to win the competition.
She said at the time: "That was the purest voice I have heard live, ever. I think I've just witnessed a performance from the winner of X Factor."
THE RATINGS (7.30pm to 9.40pm):
The X Factor (TV3): 567,800 viewers
TV One: 439,300
TV2: 262,600
Four: 48,400 Four
Source: Nielsen TAM
Follow @nzherald_ent on Twitter for all the latest entertainment news.