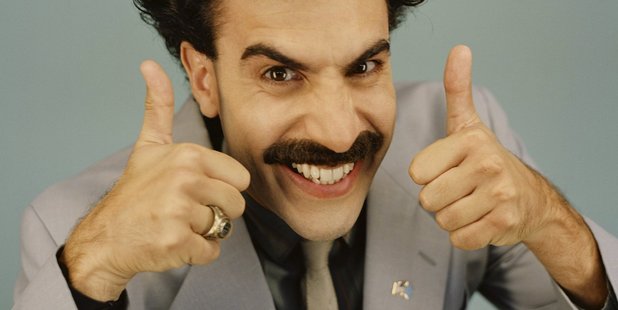 Sacha Baron Cohen won't be channelling Freddie Mercury in an upcoming biopic based on the legendary rocker after all - he's bailed on the project.
Per Deadline, Cohen, who has been attached to the long-gestating biopic for some time, exited due to "creative differences" with the surviving members of Queen.
"The band wanted to make more of a PG movie about Queen while Cohen was counting on a gritty R-rated tell-all centered around the gifted gay singer," writes the website's Nikki Finke.
Reps for the 41-year-old actor confirmed the exit, according to E! Online.
"Sacha has pulled out," the funnyman's rep told AFP in an email.
The warts 'n' all movie, which will focus on Queen's formative years - leading up to their historic performance at the Live Aid charity concert in 1985 - was originally mooted for a 2012 release, but has been hit by a slew of delays.
Deadline reported back in March that director Tom Hooper (Les Miserables) was eyeing the biopic as his next project, but that no formal offer had been made.
The website notes in its recent report that "no formal offer could go out to Hooper", and that his possible involvement had "not been approved" by the Queen band members, who have script and director approval on the film.
The Queen director Stephen Frears was also touted as a frontrunner to helm the project, which is being developed by Sony Pictures and GK Films, at one stage, according to a Variety report last year.
Presumably Frost/Nixon scribe Peter Morgan is still writing the flick's screenplay, which will reportedly incorporate iconic Queen tunes, including Bohemian Rhapsody, We Will Rock You and We Are the Champions.
Music rights for the band's songs have reportedly already been acquired.
'IT WON'T JUST BE ABOUT FREDDIE MERCURY'
Morgan dished some details about his involvement with the project to Time Out last year, noting the delicate nature of his dealings with the band's surviving members, Brian May, Roger Taylor and John Deacon.
"I'm meeting rock Gods, and I love it," he said. "Queen are sensitive because it will show rancour and disagreements in the collaborative process. In a way, the film, for me, reflects my own experience of filmmaking as a collaborative process."
He added, "Just as a film is never the result of one person, so the band doesn't like the idea of Queen being 'A Band by Freddie Mercury' - and they're right. It won't just be about Freddie Mercury."
Mercury died on 24 November 1991, from AIDS-related complications. He was 45.
"I didn't want to write about a man dying from AIDS. Luckily, when I looked into Mercury's life, I found a good story in that window," Morgan concluded.
News of Cohen's involvement first surfaced back in 2010.
GK Films' Graham King (Hugo), who is producing the movie, said in a statement at the time: "Queen is one of the greatest rock bands of all time, and a music brand all unto itself.
"Freddie Mercury was an awe-inspiring performer, so with Sacha in the starring role, coupled with Peter's screenplay and the support of Queen, we have the perfect combination to tell the real story behind their success."
The rock band's guitarist Brian May also chimed to the BBC: "We have Sacha Baron Cohen, which will probably be a shock to a lot of people, but he's been talking with us for a long time."
Per The Mirror, pop chart-topper Katy Perry was once rumoured to have set her sights set on landing a role in the movie.
According to the British tabloid, Perry, was "in the running" for the role of Mercury's girlfriend, Mary Austin, who had a relationship with the singer in the early 1970s.
Austin remained one of Mercury's closest confidants until his death.
One of Perry's 'pals' chimed: "Katy would love to be in the film as she is such a huge fan. She would want to play Mary Austin ideally. Katy has a similar look to Mary and would be a brilliant foil to Sacha."
But, as it later transpired, mercury wouldn't be rising for the songbird after all.
"There's something about the internet that's sort of funny - it's that nothing is true on there," the singer dished to E! News.
"There's been no formal offer. Although I do like the association and I like the company because I think Sacha Baron Cohen is hilarious."
She added: "I have to take a catnap first before I do anything."
Last year, May posted an update about the biopic on his website.
"Ah ... I promised news of yesterday's Queen band meeting. Well, it was just Roger and Jim Beach and myself ... we are a small cottage industry !! Our main agenda was the Freddie film ... which, I'm happy to tell you, is on course," he wrote.
"Much of our discussion was about contractual things ... it's pretty complex .... and determining who is responsible for what. The pieces are all falling into place, though we are now on a slightly later schedule - filming is now scheduled to start in the Spring, with Sacha Baron Cohen playing Freddie.
"The film should be ready for release early in 2014."
No word as yet on who will replace Cohen.
Stay tuned for updates.
NOTABLE NUGGETS
And finally ...
* Gilded thrones: Kim Kardashian and Kanye West reportedly dish out some serious dough for four gold-plated toilets to take pride of place in their new love nest; Meanwhile, West, the modest devil, opines that his track New Slaves contains the "best rap verse of all time".
* Not lovin' it: So a horse walks into a McDonald's ... and poops on the floor. You want fries with that?
* SOS! Kelly Rowland indulges in a spot of whale-watching, gets lost at sea.
* Lady in red: Va-va-voom, Helen Mirren!
* Miley Cyrus' parents are staying married. Again.
* Catherine Zeta-Jones talks mental health, Michael Douglas' cancer diagnosis.
* Oh, Rihanna: Singer has a major falling out with her bra.
* Kelly Osbourne flashes her engagement bling.
* Exes Roseanne Barr and Tom Arnold posture it out on Twitter.
* Lady Gaga licks 'monster' hand in bizarre leaked promo video.
* Watch: Fan freaks out after overwhelming Beyonce encounter during live concert
- Rumour Has It