Well-known names move to other side of camera, writes Barney McDonald.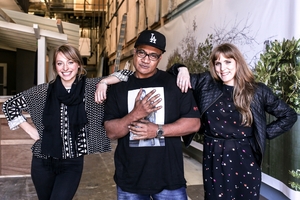 Half a dozen Kiwi short film-makers are are vying for a range of coveted prizes when their work appears in competition at the annual International Film Festival. Among the prizes Oscar Kightley, Walter Lawry, Lauren Jackson, Dan Kircher, Aidee Walker and Chelsie Preston-Crayford are aiming for is the audience vote, which earns them 25 per cent of the box office screenings. Other prizes include the $5000 Madman Entertainment Jury Prize and the $3000 Friends of the Civic Award.
The competition is in the unusual position of having three well-known local actors nominated as directors. Only Walker has previously made a short film, The F.E.U.C., which took her to the Palm Springs International Short Film Festival.
"It didn't guarantee I was going to make a good director," counters Walker, when asked about the advantages of being a well-known actor making a short film. "Being on set over the past decade perhaps gave the New Zealand Film Commission more confidence I'd know what I was doing, but no one trusts you fully until they see what film you deliver."
Kightley actually got turned down for Film Commission shorts funding. "The funding process is so competitive, so being an actor certainly didn't make a difference there. I half-wondered whether being an actor counted against me because one of the criteria they were after was experience in directing."
Preston-Crayford thinks her profile as an actress may have helped with funding on a small scale.
"There might have been a few people that gave money because they had seen me in something," she reasons. "But the vast majority of our funding came from family members and friends."
The trio have crafted distinct films that share a subtlety and realism that helps anchor them in a New Zealand context. Kightley's film, Tom's Diary, is the only period drama, set in West Auckland in 1981, an era of palpable racial tension. Walker and Preston-Crayford's films, Friday Tigers and Here Now, detail young women dealing with life and love, but in gently surprising ways. All three are insightful, touching and recognisable. The latter two also star their directors.
"I'd originally written the script for me to play Ana because I didn't know any other way to write," admits Walker. "I'd hoped someone would want to direct it but then I was encouraged to direct it myself."
Preston-Crayford, best known for her role as Tilly Devine in the Sydney-set 2011 series of Underbelly, had no intention of being in front of the camera for her directorial debut.
"I really didn't want to," she insists. "I wanted to focus purely on being on the other side of the camera for once and have my co-creator, Sylvia Varnham O'Regan, be in it, but she refused outright. We looked around a bit for someone but she eventually convinced me it would be much easier for me to do it. I'm really glad she pushed that one now. It made things quite simple."
Kightley, who just starred in cop drama Harry, confides that his film was a story "that's been in my head for years and years".
"Also it was great to make a film in Te Atatu North about aspects of my childhood that were so present and seemingly important back in the day, such as space invaders, dairies and milk delivery," he laughs.
Preston-Crayford's film is also partially autobiographical, though her story is also filtered through the presence of her collaborator.
"Sylvia and I both drew on experiences we'd had and ways we either felt or had felt in the past," she explains. "I don't know if you can make something and it not have elements of yourself in it."
Walker, immortalised as scheming Draska in Outrageous Fortune, begs to differ.
"I spent a lot of time looking after the little girl, Anysia, who plays my daughter in the film, but I'm not a single mother by any stretch of the imagination," she laughs. "The character I play, Ana, was a mish-mash of three women I know. I'm guilty of trying to keep different parts of my life separate and that's not doing me a service. But as far as the story, it's complete fiction."
The films screen in the International Film Festival on Saturday July 27 and Monday July 29. See www.nziff.co.nz for festival dates, locations and movies.