The directors of two acclaimed films talk about how the Israeli secret service deal with the state's enemies - both featuring in this year's film festival - talk about the inspiration behind their movies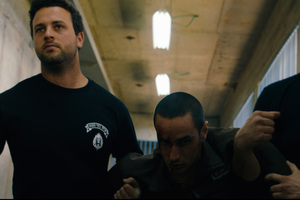 After Hany Abu-Assad made 2005's Oscar-nominated Paradise Now, about young would-be suicide bombers, the Nazareth-born Palestinian filmmaker, who had lived in Holland for many years, did as so many ambitious filmmakers do - he headed for Hollywood. Only the result was the dire direct-to-DVD release The Courier starring Mickey Rourke.
"I had so many offers but I ended up making the worst movie I ever made," he moans. "But it was an interesting process; I learned a lot. I think the process was more interesting than the goal."
Now, after returning to his roots, the 51-year-old has made his most accessible film to date, Omar, where he harnesses the story-telling skills he has learned along the way. This youth-oriented thriller, starring New York-based Adam Bakri, took out the Jury Prize in the Un Certain Regard section in Cannes in May, when it was highly touted as the first movie made by Palestinians. That the cast and crew were largely inexperienced makes the success of the US$2 million ($2.5 million) film all the more incredible.
Shot in the West Bank and Nazareth, Omar follows Bakri's baker, who lives in an Arab village on the other side of an Israeli-built wall to his girlfriend Nadia (Leem Lubany), Nadia's brother Tarek (Eyad Hourani) and their neighbour Amjad (Samer Bisharat). When Omar tags along as Tarek and Amjad attack an Israeli garrison, Omar is the one who gets caught and is thrown in jail and interrogated by a Israeli secret service agent Rami, who coerces Omar into revealing the names of the real culprits.
"A friend told me years ago about an Israeli secret service agent who tried to collaborate with him," Abu-Assad explains. "At first he agreed to do it, but he didn't in the end as he feared it would destroy his family. He told me the story after I asked him why he'd been divorced. We've changed a lot but it was the basis for a good story. Our movie is a mix of a love story and political thriller."
Though he is quick to point out he believes political discussions should be kept out of movies, as they can be "very boring", any Palestinian film is going to have political intent regarding the Israeli occupation. One of the messages with Omar, he notes, regards the vulnerability of youth.
"You think you're adult and can stand alone, and actually you don't have the experience of life to avoid the traps and making fatal mistakes. The struggle for freedom should be led by adults, but now the adults have gone back home and have left the struggle for the youth. This is actually my political statement. If you leave the youth to make such difficult decisions, they will fail. The adults should choose to go back and lead the struggle."
Who: Hany Abu-Assad, director
What: Omar
When and where: Monday, 4.30pm SkyCity Theatre; Friday, August 2, 4.15pm Rialto, Newmarket; Saturday, August 3, 8.30pm Rialto.
- Helen Barlow
Counter-terrorist confessions
Long before its release in his native Israel, Dror Moreh's documentary, The Gatekeepers, was one of the most hotly debated movies in years.
The number of articles about the film was unprecedented, says Moreh. Given the incendiary nature of his film, he can hardly have been surprised by the reaction. Interviewing all six living former heads of Israel's Shin Bet counterterrorism agency, The Gatekeepers is a startling study of how Israeli state-sanctioned violence has derailed the peace process.
Fuelled by remarkably frank confessions from these expert tacticians, not least regarding their involvement in selective terrorist assassinations, it makes for grim, if compelling, viewing.
Even more impressive has been the film's American performance. After wowing critics at the Toronto and Sundance festivals, the film has taken $US1.6 million ($2 million); a remarkable run for a niche documentary about Israeli politics. As for the school of thought that Americans don't go to see subtitled films, The Gatekeepers proved that wrong, notes Moreh, suddenly regarded as a Hollywood hot prospect.
The only surprise was that Moreh, 51, lost out on the Best Documentary Oscar (to Searching for Sugar Man).
The Gatekeepers is unflinching in its examination of the morality of counterterrorism, not least when Moreh confronts Avraham Shalom. The much-feared head of Shin Bet from 1980 to 1986 became infamous after he ordered the execution of two terrorists captured after hijacking a bus. "With terrorists there are no morals," he says. "In the war against terror, forget about morality."
Raised in Jerusalem, his mother is from Palestine, his father originally from Iraq, Moreh was shocked to learn how many missed opportunities there were by Israelis to broker peace. "The actual meaning of that is people die. Many Israelis and Palestinians could've lived happily. Lives have been lost and life will be lost ... because the politicians from both sides didn't work hard enough to reach a solution."
Moreh is returning to Tel Aviv to complete a book and a five-part television series that will expand on The Gatekeepers. And he has his eye on Hollywood, with many offers to work on a fiction film. Would he consider using an anecdote from the documentary as the basis for a script? "I will do something exactly like that." He cites one of the more pulsating sequences in the film, an account of an 18-month Shin Bet operation to bring down the chief bombmaker of Hamas, Yahya Ayyash. Known as the Engineer, he was killed in 1996 by a mobile phone rigged with explosives. "Believe me, I can do a Steven Spielberg movie about that."
Who: Dror Moreh
What: The Gatekeepers
When and where: Event Cinemas Queen St, Sunday 1pm; Tuesday 6.30pm, Wednesday, 2pm
- TimeOut / Independent