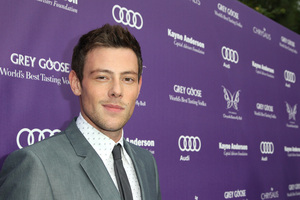 Cory Monteith had been going through a "rough time" as he faced up to his own substance abuse issues by portraying a drug-addict in his final film role, according to the movie's director.
The Glee star was found dead in his Vancouver, Canada hotel room at the weekend, less than three months after completing a stint in rehab.
Filmmaker Josh Waller says the actor had been "feelling better" about his personal situation when they last met up at a recent screening for McCanick, which was shot last September.
"He had expressed that he was kind of going through a rough time, but that he was feelling better about it, and then when I saw him at the screening he wrote me a really sweet email," Waller told ET Canada.
The director claims Monteith had been determined to tackle the gritty project, a stark departure from his all-singing, all-dancing role as Finn Hudson in Glee.
"He was like, 'I can do this character, I know this character, I was this character, I have lived elements of this,' Waller said.
"He was so charismatic and passionate about the material it was just a combination of everything that made me think this guy was going to do it."
Waller learned about Monteith's passing via a text message from the actor's McCanick co-star Tracy Toms, and he is still reelling from the news.
"It's horrible, but I haven't really processed it yet."
An autopsy to determine a cause of death was scheduled for Monday, although coroners have warned that results are not expected to be announced for several days.
- WENN