With the Rolling Stones returning to Hyde Park today, Mick Brown remembers 'that dress' from the legendary 1969 concert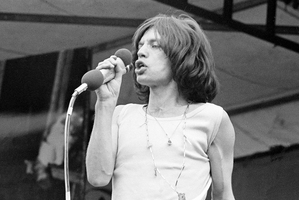 Is there a single item of clothing more redolent of the spirit of the 60s - the madness, the exhilaration, the zeitgeist - than the dress that Mick Jagger wore at the Rolling Stones' free concert on July 5, 1969?
I call it a dress, because that's how it has gone down in history. As we shall see, that's not quite right. But first let us picture the scene.
It is a warm summer's day, and some 250,000 people have assembled in Hyde Park to see the Stones' first concert in two years. A celebration, then. But wait. Brian Jones, the group's founder, has died two days earlier, in the swimming pool at his country retreat, Cotchford Park - the house where AA Milne wrote Winnie the Pooh. So, also a wake.
In search of a fitting requiem for his friend, Jagger has settled on Percy Bysshe Shelley's poem Adonais. "Peace, peace! he is not dead, he doth not sleep," Jagger's voice carries over the heads of the rapt, tearful (and, in most cases, one suspects, very stoned crowd). "He hath awaken'd from the dream of life."
Beside him boxes containing 2500 white butterflies are thrown open. A few flutter towards heaven. Most are already there, having suffocated during their long confinement. "There were casualties," Charlie Watts would later note sadly. "It was like the Somme."
But what is Jagger wearing? It is a smock: white voile, with "bishop's sleeves", ruffled at the wrists, a ruffled neck and a bow-laced front. You might call it a "poet's blouse". So, not really a dress at all then.
The outfit was the creation of Michael Fish, the most fashionable shirtmaker in London, the inventor of the Kipper tie, and a tastemaker in men's fashion.
A working-class boy from Essex, Fish served his apprenticeship on Jermyn St, working at the staunchly traditionalist shirtmakers Turnbull&Asser before opening his own boutique, Mr Fish, in 1966.
Fish embraced, indeed came to define, the dandyism of the period: his clothes were ornate confections in velvet, silk and satin, garlanded with bows, ruffles and furbelows, and sold at appropriately luxurious prices: up to 20 guineas for a shirt: (£205, or $395, in today's money); 35 guineas for a jacket; 100 guineas for a suit. Labelling his clothes "Peculiar to Mr Fish", he sold to the galerie of actors, aristos and musicians who constituted the more moneyed end of Swinging London: Peter Sellers, Terence Stamp, Sammy Davis jnr and David Bailey were among his customers.
In 1969, Fish was on holiday in Greece, where he was much taken by the fustanelle, the skirt-like costume worn by the soldiers of the Presidential Guard. Back home, he fashioned a similar outfit for his own range - a three-piece outfit comprising trousers, a flounced tunic and a waistcoat, in a fetching white voile. He also made one in purple.
The outfit was modelled at a charity fashion show at the London Planetarium. Patrick Lichfield, the Queen's cousin, was supposed to be the model but, Fish later noted, "his courage failed him" (and who could blame him?). Instead, it was worn by Julian Ormsby-Gore, whose sister Jane was the inspiration for the Rolling Stones song Lady Jane.
In the week before the concert in the park, Jagger - a regular customer - visited Mr Fish, in search of something amusing to wear for a ball held by his financial adviser, Prince Rupert Lowenstein. His eye fell upon the Grecian tunic ... It was priced at 85 guineas. Jagger asked for it to be put on his account - with a reduction, Fish would remember, because it had been worn. "He's always rather careful."
So it was that he came to be wearing it at Hyde Park - albeit not for long. Shortly after reading Adonais, Jagger removed the tunic, performing the rest of the concert in a purple T-shirt and white loon pants. Bill Wyman later said the singer had made fashion history as "the first man to take off a dress in public".
Danish academic Professor Michael Langkjaer, of the University of Copenhagen, has said that Jagger's costume, along with his choice of requiem poem, should be seen as part of a "co-ordinated mise en scene". "Jagger had placed himself in a quasi-Shelleyan pose by treating Jones's death in a manner analogous with that of Keats having been the Adonais of Shelley's poem, as well as by wearing a Byronic costume and thus retaining his branding as a heroic hedonist."
Jagger himself greeted the inevitable furore over his sartorial choice with the explanation that it was "just another frock". Sammy Davis, meanwhile, liked it so much that he ordered three - "in black, brown and champagne".
Fish went on to design another dress - a proper one this time - which was worn by David Bowie on the cover of The Man Who Sold the World; an image that so outraged his American record company, they used a cartoon in its place.
And what of Jagger's "frock"? Speaking recently, he teasingly said that he still has it in his wardrobe, and might even give it another airing at Hyde Park, adding, "You never know, I tend to choose my dresses at the last minute."
I wouldn't bet 85 guineas on it.