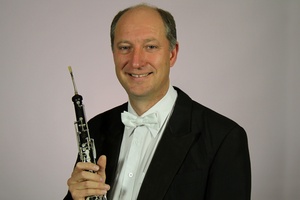 Dance! - the title of the second Auckland Philharmonia Orchestra Great Classics concert - had an imperative ring to it. Yet, from the start, there was music for the soul as much as the body in Kodaly's Dances of Galanta.
The Hungarian's gypsy ramble ended in breathtaking high spirits, but conductor Nicholas Collon also underlined earlier lyricism with some glorious woodwind contributions ushered in by clarinetist Bridget Miles.
Liszt's flashy Totentanz featured Australian pianist Tamara Anna Cislowska, who deputised at short notice for Sergio Tiempo.
This Dance of Death might be a tad tawdry for some tastes, especially when the composer showers the sacred Dies Irae chant with grotesque gothic glitter.
However, the pianist's unruffled and almost defiant virtuosity dashed any reservations aside.
In Cislowska's hands, sweeping glissandi looked forward to Ravel and beyond while, within the numerous cadenzas, she found songs for the soul.
Determined to engage in dialogue with the audience, she asked for requests at encore time.
After saluting our majestic Town Hall, she rewarded us with a suitably magisterial account of Rachmaninov's celebrated C sharp minor Prelude.
After interval it was waltz time with Ravel and Richard Strauss.
Ravel's Valses Nobles et Sentimentales were exquisite. The meticulous Collon brought such refinement and sheen to the sound with the slightest breaths and murmurs fusing to create a mood of evanescent elegance.
The First Waltz Sequence from Strauss' Der Rosenkavalier, which was written in the same year curiously enough, has a more overtly luscious bloom and it was magnificently treated as such.
Collon introduced the final piece, Lyapunov's transcription of Islamey by his teacher Balakirev, as the orchestra's encore. It certainly had that flavour to it and was, he assured us, just as difficult as the original piano version.
The APO was at its brilliant best as Balakirev's gleaming fragments flew around the orchestra in a way that suggested Scheherazade had availed herself of a supersonic magic carpet.
It wasn't all dazzle and velocity. Martin Lee's cor anglais delivered the Tartar love song with an expressiveness that suggested here, indeed, was a gentle dance for the soul.

Review
What: Auckland Philharmonia Orchestra
Where: Auckland Town Hall
Reviewer: William Dart