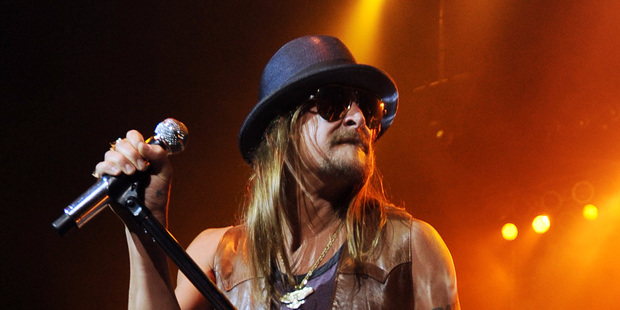 Yes, I know I get to go to concerts for free. What can I say, it's my job. But it doesn't mean I don't balk at the excessively high ticket prices for some shows. So then, just imagine paying the same price for a concert at Vector Arena as you would if you were going along to the Kings Arms. Twenty bucks, maybe $25 tops. Of course, that's unheard of. Acts pulling Vector-sized crowds can demand premium prices because, well, they're big.
However, more affordable concerts could become a reality if the business model of Kid Rock - yes, Kid bloody Rock! - is more widely adopted. Like many music fans, I've never had any time for Rock and his gonzo rap rock schlock. But you have to admire his latest crusade, because waging war on the price of concert tickets is a worthy cause and long overdue.
Bands have done it before, most notably late great hardcore heroes Fugazi whose ticket prices reflected their belief that shows should be accessible to everyone. Though Fugazi never really did it for the money - unlike, I imagine, Kid Rock.
Mr Rock can afford to, as he puts it, "take a pay cut" since he's sold more than 15 million albums.
But you could also say he's past his prime and cheap tickets sure is one way to make sales soar (which by all accounts they are).
However, the real beauty of his deal with promoter Live Nation, which has seen ticket prices slashed to US$20 ($25) for the imaginatively named $20 Best Night Ever Summer Tour, is that he is in the money. Because as well as selling merchandise at shows, he is also taking a cut of the beer sales - which is genius because less money for the ticket means more money to spend on beer. There are also a number of premium-priced tickets allocated for each show so diehard fans can, er, get close to their hero if they please.
I hate to admit it but Kid Rock might just be a pioneer and, just think, if it catches on we can all go and see Justin Bieber for a discounted price that's more indicative of the pop upstart's true worth.
It also seems the politics of concerts are not just restricted to ticket price - as the triumphant Killing Joke show last week was testament to. I'm a big fan of the post-punk industrial band, and loved the show, but there were many who were miffed during and after the concert.
Some paying punters left early, or were forced to watch the show on the big screen TV out in the foyer, because they thought the main room was too packed and they couldn't get close to the stage.
You see, the Studio is not a great venue because it has an annoying bottleneck - or perhaps a sort of hourglass design is a better description - where people are funnelled from the foyer into the main room. A bottleneck of this type is even more frustrating and intimidating when there are staunch Killing Joke fans standing in your way.
Following the outcry, the Studio's spokeswoman Marie Lawrence admitted to nzherald.co.nz it was a bit "cramped". She put it down to the fact the crowd was a lot older "so in the main room there are less [people] prepared to move closer, creating cramped areas further back ..."
She's right you know. Not about the cramped bits, but that older people take up more room. They do. Especially that veteran gig-going crowd who have whiled away many a night listening to bands, swilling their pints, and nurturing those beer bellies. They would, of course, be more than welcome among the beer-swilling masses at a Kid Rock gig.
- TimeOut